Fan Game NiGHTS: Christmas Reverie is Coming to Town
by Tristan Oliver
November 22, 2010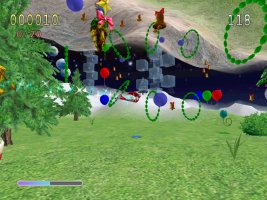 Core/Kentilan Back with a Holiday Treat
There remain plenty of NiGHTS fans to go around, and just in time for the Holiday season, it appears they'll have a very appropriate fan game update to play.
NiGHTS: Christmas Reverie was formally unveiled today by Core, also known as Kentilan when we told you about the original project in August.  Christmas Reverie will have an XMas mode that is both automatically triggered during December, and can manually be activated at any time through the game's options.  Enabling the mode, like the official demo from which it is inspired, will transform the game's levels into a winter wonderland.
Christmas Reverie will add an extra level and plenty of new modes, including 2 player battle and race modes, a time attack, a link attack, and yes, a Sonic mode.
You can see many of those modes in action via the gallery below.  We'll let you know when NiGHTS: Christmas Reverie is out in playable form; it's sure to brighten up the spirits of Sonic and NiGHTS fans alike upon its expected release next Wednesday, December 1st.