First Nintendo 3DS Public Playtest Announced in Japan
by Tristan Oliver
November 24, 2010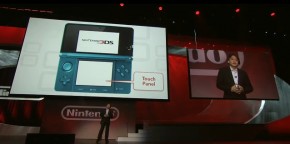 Will the 3DS Specific Sonic Be Shown at "Nintendo World 2011"?
For the first time come January, the public will be able to play Nintendo's next handheld before it's released…but only in Japan.
Nintendo World 2011 will take place January 8th through 10th at the Makuhari Messe convention center, and it will be a free event, reports Andriasang.  It will be the first time the public can play the new handheld before it's released in the country February 26th.
Why might this be important?  You may recall during E3 this Summer that an untitled 3D Sonic game was on a list of titles in development, complementing what we now know to be Super Monkey Ball 3DS.  We've heard plenty on the SMB front, but nothing on the Sonic project since.  With it being so close to the Japanese launch, this could be the first time we see something in action, or learn something more.  Because no specific titles have been announced to be playable at the show, this bears watching, so keep checking TSSZ News for developments as we get closer to the event.