Green Sonic New Mascot for Russian Telecom Giant?
by Tristan Oliver
December 7, 2010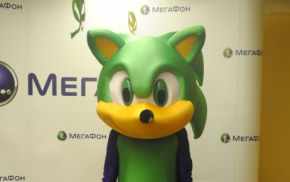 In Soviet Russia, Hedgehog Plays You
Sega's lawyers are sure to get a kick out of this, as are haters of Sonic's design in Sonic 4.  Think green eyes are bad?  Try a green body.
That, above all else, is what Russian telecom giant MegaFon is apparently using to differentiate its new mascot from the blue dude we know and love.  You can see a picture of the concoction in our story photo above, and at this page.  Like Sonic (at least in the eyes of some), this hedgehog appeals to children–an odd premise considering MegaFon is Russia's second largest cell phone operator.  Like cigarettes, you have to hook 'em early.
Kidding aside, the green Sonic-esque figure made an appearance as part of a kindergarten contest asking young ones to draw their own mascot for the upcoming 2014 Winter Olympics in Sochi.  It's not clear whether this hedgehog was the result of that contest, but it if was, you better start microwaving that popcorn now–watching Sega sue a child for copyright infringement when they haven't yet touched those principally responsible for leaking Sonic 4 ought to be fun to watch.
Thanks to Cstyler for sending this in.  If you have news to share, be sure to share it with us by clicking News Tips at the top of every page.