First 4 Figures's Super Sonic on the Assembly Line
by Tristan Oliver
December 10, 2010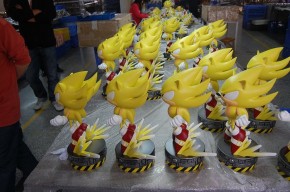 It's Off to Work We Go
Ever wondered how those magnificent First 4 Figures models are made before they sit proudly in your home?
Through Facebook, the collectible figure company showed a glimpse of the process today, within the frame of the upcoming 15 inch Super Sonic models.  They won't be released until early next year, but in the gallery below, you can see a whole batch of them running through production.  You'll note all of them are at least partially assembled by hand instead of machine.
Take a look in the gallery below.  First 4 Figures is still taking pre-orders for both the regular and exclusive Super Sonic model.