Sonic Rebirth, All But Forgotten, Sees Beta 3.0 Release
by Tristan Oliver
December 13, 2010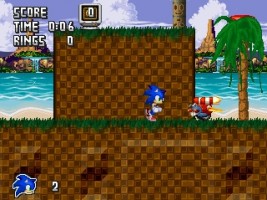 Final Release to Come, but Leon "Not Sure About" When
It was, at one time, one of the most anticipated 2D Sonic fan games.  But a bungled alleged "full" release during the 2009 Sonic Amateur Games Expo that was instead riddled with errors marred the future of Sonic Rebirth, and its developers just couldn't recover from such dark marks.
It's become secondary since, with little of value heard about it until last week, when leon, the principal behind it, released another Rebirth beta, now in version 3.0.
"I'm planning a final release, but not sure about the release date," he wrote on Sonic Fan Games HQ Wednesday, calling this a "final effort" despite plans for a finish.
Version 3.0 of Rebirth lacks a stage select and Super Sonic's final boss.  It does have new cutscenes, with third acts added to Jungle and Bridge zone, and a second to Sky Base.  Those zones are also a part of the main story as of this release.
There's more additions and changes, and you can play it for yourself by downloading the newest Sonic Rebirth at this link.