Sonic Fan Remix Featured in Game Informer Magazine
by Tristan Oliver
December 15, 2010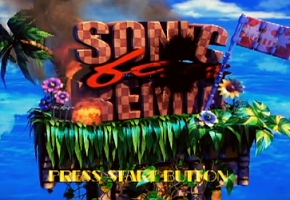 "I think that SFR succeeds where Sonic 4 fails because"…
One can never be too careful toeing the line between celebrity and legality when it comes to fan games.  That's probably why the current dynamic duo of SFG teams, Pelikan and Mercury, made clear finished and future releases of Sonic Fan Remix will be free when interviewed in the latest issue of Game Informer magazine, out now.
Indeed, the words of Alan Pritchard aren't the only things inside the pages; the magazine included a full page story on the much celebrated project, the first positive exposure for Sonic fan gaming in a good while.  He affirms Sega hasn't contacted the SFR devs over the course of the game development, for good or bad.  A major problem, at least concerning respect, on both interviewer Dan Ryckert and respondent is first Ryckert's outright proclamation SFR is "visually superior" to Sonic 4, followed by a question on how Pelikan and Mercury was "able to make a better-looking game than a major games studio." Pelikan answered with with class.  Mercury, on the other hand…
I think that SFR succeeds where Sonic 4 fails because it's more surprising.  There are so many details you're not expecting to see, and that's what makes it more exciting.
Interesting enough, Pelikan also states the announcement of Sonic 4 nearly derailed his ambitions toward the project:
…When I heard they were working on a 2D Sonic I felt both excited as a Sonic fan and a bit disappointed.  I did consider stopping work on SFR at that point as I felt there might be no place for it.
Aside from that, the other major news coming out of the interview is that Sonic Fan Remix may not completely be a remix; Pelikan plans some original stages for it.  The full interview is available via a page scan below, provided to us via a News Tip from Teh Chrisizard.  We thank him for sending it in.  If you have news to share, be sure to share it with us by clicking News Tips at the top of every page.