Sonic Free Riders Nominated for ScrewAttack SAGY
by Tristan Oliver
December 15, 2010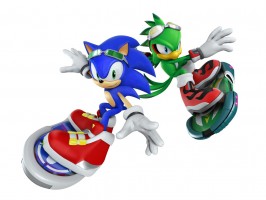 The Award You Don't Want to Win
Nominations are just seeing release over on ScrewAttack for the 2010 SAGY awards.  Sonic is represented, but this is not an award worth winning.  The S#!tty Ass Game of the Year award is SA's traditional antithesis to the usual array of year end accolades, sticking it to the worst of the worst.
Unfortunately, Sonic Free Riders is among the dishonored for 2010, nominated in the Worst XBOX 360 game category.  The Kinect exclusive, as of this writing, is leading by a fair margin among the other nominees, which include Fighters Uncaged and Ninety-Nine Nights II.
Sega couldn't escape subsequent nominations in the SAGYs, either.  Super Monkey Ball: Step and Roll and Tournament of Legends were both nominated in the Worst Wii Game category, though at the moment they are both thankfully not the frontrunners in voting.
Thanks to Bluehedgehog25 for sending this tidbit in.  If you have news to share, be sure to share it with us by clicking News Tips at the top of every page.