For Christmas, An Everlasting Winter Tale
by Tristan Oliver
December 24, 2010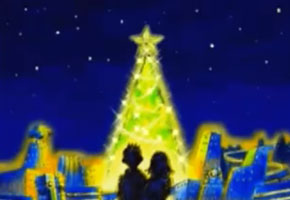 How Sonic Team Captured the Holiday Spirit
It is Christmas Eve, and barring any breaking news, it is the last you'll hear from us until Monday, December 27th.  The staff of TSSZ News wishes you and yours a safe, peaceful, and merry Christmas, as well as a happy Holiday season.
It has been a wild year, and I personally appreciate your continued support during times of good and bad.  I know I have not always made it easy, and I'll elaborate more on that in an end of year statement on December 31st. But in times of volatility and stress, there must always be sight of peace, with oneself and one another.
With that in mind, whereas in other years we've gone off the grid to bring you more obscure Christmas tales, this year we want to keep it closer to home.  Christmas NiGHTS was released in many areas as a demo pack-in with several gaming magazines during the 1996 Holiday season for Sega Saturn.  A Sonic Team masterpiece in its own right, few in the new generation of Sonic fandom may have ever played it.
The demo disc continues the tale of subconscious bonding between protagonists Claris and Elliot, amid a frenzied Holiday rush in Twin Seeds.  The plot?  Find the star that completes the city's decorated Christmas tree tower.
Finding the star is ultimately not important, because the star only exists through NiGHTS in their dreams.  The difference before and after those dreams, the ability to rekindle and maintain peace and pure happiness among friends, family, and community in a season that quickly degenerates into commercialization and materialization–that is the everlasting message this interactive tale tells.
Christmas NiGHTS's FMV tells the tale in a hair above four minutes.  For those who never played it especially, those four minutes are well worth your time.  So we've relayed both open and close below.  Following the close is the magnificent ending theme, Dreams Dreams in a-capella.
"Give a star of happiness to the heart of these brave children.  Give a star of happiness to the heart of everyone."