A Sonic Marathon for Child's Play
by Tristan Oliver
December 28, 2010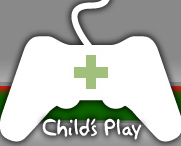 $500 Sought to be Raised Through 1/6
Sadly, TSSZ News is not participating in charity related endeavors this year (bah humbug and such) but we can at least tell you about a group of fans who is.
The Sonic Marathon is underway right now, and it's seeking donations for Child's Play, which we helped a bit last year.  Their goal is more ambitious; they seek $500 for the charity which benefits children's hospitals around the world.  Those behind it–Zack, Nathan, Dan, and Damien–will play Sonic games nearly nonstop until January 6th in the hopes onlookers will contribute toward that goal.  So far, they're pretty far along.  The drive began yesterday and as of this writing $200 has been raised.
Right now (also as of this writing) a Sonic Unleashed playthrough is underway, with many more to come in the queue, old and new, obscure and not.  There will also be giveaways and competitions, and a $3 donation makes you eligible for a drawing to win Sonic Colors.