Japanese Sonic 20th Anniversary Website Portal Opens
by Tristan Oliver
December 31, 2010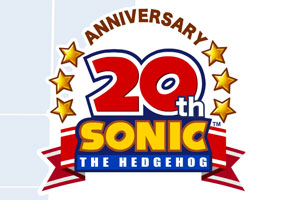 The One to Watch Through 2011
It's already crossed to 2011 in Japan, where Sega has opened a tease site touting Sonic's 20th anniversary.
Right now, there's little to speak of there, aside from the logo you see above, and a box art montage of the games released over the past two decades.  Even website miners have found little clues thus far as to what's in store.  But the website Andriasang reports Sega's Japanese division sent out a press release promising several "projects" on the way to commemorate the anniversary.  What those are exactly wasn't disclosed in the release.
Sega's Alan Pritchard claimed some announcements are coming in the first quarter, so it shouldn't be too long before we know what's up.  The JP website will be a first line of reference for many fans, as we hope this site is for you, too.  2011 looks to be a good one.