Sega Sammy Stock Closes Unchanged on Sonic Trailer
by Tristan Oliver
April 7, 2011
Japan Aftershock Nullifies Morning Gain
What was a very exhilarating day for many Sonic and Sega fans did not translate into shareholder gains trading on the pink sheets today.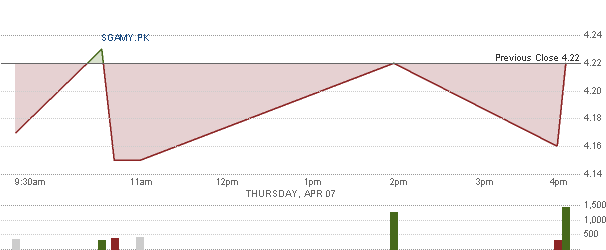 The stock of Sega's parent company, Sega Sammy Holdings, ended the trading day unchanged from its $4.22 a share mark from Wednesday, according to the chart above from CNBC.com.  You'll note the day started in the red for Sega Sammy, but creeping up into positive territory as news of the new Sonic trailer spread
That was, until a powerful 7.1 magnitude aftershock occurred off Japan shores, prompting another tsunami warning.  SGAMY plunged once the earthquake hit, and it could only recover to Wednesday's close.
In Japan, the stock market was closed when the Sonic trailer was revealed, but Sega Sammy stock there closed down 14 yen from trading Thursday.  Because of continued uncertainty in Japan, looking at a stock ticker may not be the best way to gauge investor reaction to the first glimpse of the next Sonic, but we wanted to show it since we did a similar cause and effect with the Sonic 4 reveal.