Penny Arcade Pokes Fun at Sonic Cosplay
by Tristan Oliver
July 27, 2011
"Sexy Tails" Not so Much at SDCC
Today's Penny Arcade comic, The Pondiferous, certainly takes a shot at cosplayers of any kind.  But with the strip's depiction of a male "sexy" Tails framing the humor, Sonic cosplayers again are an easy target…or at least the ones who cosplay half-heartedly.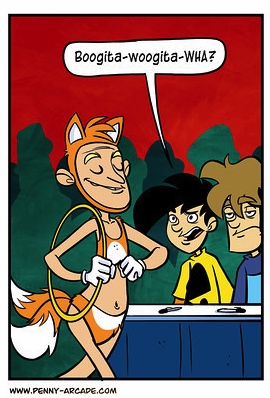 The strip sees Tycho explain to Gabriel what he just saw, with Gabe's remark of "I just don't know why" the punchline.  The front page remark complementing the comic explains this was an actual encounter real life PA creators Mike Krahulik and Jerry Holkins had at last week's San Diego Comic Con:
That's a real costume we saw, and his golden hoop gleamed not only with light, but with heat.  HEAT.
Gabe may not know "why" given his assumed first exposure to such a…unique cosplayer, but we suspect if the duo's first taste of sexy Tails was in New York instead, they would feel far different.  We're just saying.