Sonic Generations 3DS: Classic Homing Attack?
by Ryan Bloom
September 13, 2011
See improved Green Hill and more surprises

Launching along side the new Sonic Generations website in Japan, Nintendo released some new media for Sonic Generations as part of last night's 3DS Press Conference. Among them are even more screenshots of Green Hill, Casino Night and Mushroom Hill, plus a brand new video up for consumption. In particular, this media shows a greatly improved Green Hill Zone, boasting more complex lighting on characters and an overall increased level of detail – quite an improvement over the empty, barren screenshots we've grown accustomed to.
But perhaps most curious is the video included with the screenshots, which gives us an in-motion look at the improved Green and Mushroom Hills. The odd part is that near the beginning of the video, Classic Sonic is launched in to the air and while hovering near an enemy, the homing attack crosshair briefly flashes on screen – blink and you'll miss it.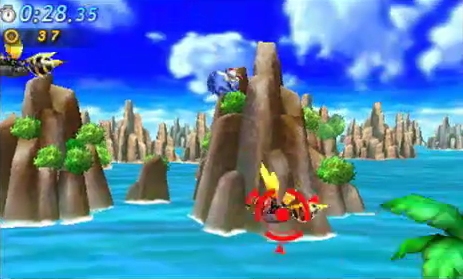 This adds to mounting evidence that Classic Sonic may see himself getting an upgrade at some point in Sonic Generations. Stay tuned!