Japanese Sonic Generations SE Revealed
by Tristan Oliver
November 10, 2011
Sega Breaks Out the Crystal Cubes Again
The middle finger toward Sonic fans in North America continued its extension overnight when Sega of Japan revealed yet another region specific special edition to Sonic Generations.
The SE, which will be available across all three versions, will not only include the corresponding History of the 1st Stage soundtrack, it will also some special Sketch-hog inspired artwork right now dubbed Hand Sonic, it also comes with a special crystal cube, much like what Sega did for Sonic's 10th anniversary.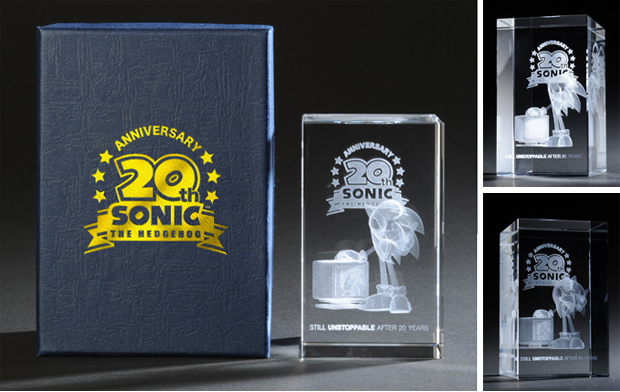 The cube is 6 cm in width, 6cm in depth, and 10 cm in height.
Prices for the SE range from ¥10,479–or more than $135–for XBOX 360 and PS3, to ¥8,379, or about $108, for the 3DS.  The set will be released along with the game to Japanese consumers in December.  We've linked to Ebten if you want to take a crack at ordering the set, but we're not sure if the retailer ships outside Japan.  We will try and scour the web for alternate points of sale and bring you anything more that we learn.  Thanks to Woun of Russia's Sonic Scene for tipping us.  If you have news to share, be sure to share it with us by clicking Send News Tips at the top of every page.