Sonic Generations PC Receives "Nostalgia Edition" in Russia
by Tristan Oliver
November 11, 2011
In Soviet Russia, Sega Plays You!
Just in case the crystal cube from the Japanese exclusive Sonic Generations didn't rub you the wrong way enough, we've also learned gamers in Russia get something special as well.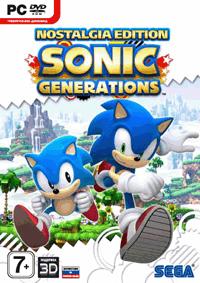 The Sonic Generations Nostalgia Edition for PC sounds special, but in truth, it's actually the same deal Steam users received when they pre-ordered the game.  Gamers who purchase the Nostalgia Edition receive codes to download Sonic 3D Blast and Sonic 3 & Knuckles as a free bonus.
Interestingly enough, news tipster Prelate also tells us there's a special edition for Generations on the PS3 in Russia as well.  However, the only thing that makes it special is that it will come with a code to download Sonic 4: Episode I for free.  Some would argue that makes the PS3 SE extra special.
We thank Prelate from Russia for tipping us.  And since it's right there, here is the Russian cutaway gag.  We know it's supposed to be a porcupine, but it's Friday…humor us.