Inside the Sonic Generation Art Show
by Tristan Oliver
December 5, 2011
It's Always Speedy in Philadelphia
On a brisk, busy Friday night in Old City Philadelphia, tucked away from the main drag of Market Street, lay the hard work and dedication from dozens of talented artists in the foyer of one of the city's best known comic book stores.
For Sonic Generation organizer Chris Beaumont, still putting the finishing touches on the exhibit during opening night, it was a way for him and fellow artists to express their Sonic memories 20 years in the making.
"I saw an opportunity here. I love art. I kept seeing, you know, a lot of other tribute art shows, and I thought Sonic should be paid his due on his 20th anniversary," Beaumont said to TSSZ on opening night.
In the midst of our conversation, it became clear Beaumont has fond, if not unpolluted memories of the blue blur.  He admits he hasn't paid much attention to recent fare–though he wants to try Sonic 4 out–and that reflects in the exhibit itself.  While the occasional music track from Sonic Adventure on a stereo playlist would contribute to the gallery ambiance, a single portrait calling back the era of Adventures of Sonic the Hedgehog was as far along the timeline as the art was willing to go.
"I think a lot of the contributing artists, including myself, have a more nostalgic view of Sonic that does relate back specifically to the Genesis games," Beaumont said.  "You don't see a lot of the new characters, like Big, or…I don't even see Knuckles up here, which is kind of surprising."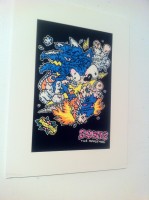 Beaumont worked his contacts in the animation industry to gather the group of artists for the event.  They produced a wide variety of work, from sculpture to silkscreen.  Edwin Vazquez contributed the latter to the show.  Called Super Charger Sonic, it took about a day's work to produce, and in it, he experimented with the idea of Sonic's speed, and its chaotic nature.
Still, Vazquez doesn't take it too seriously.  Comparing the work to a "seizure," Vazquez says he is well known for gags.  His Sonic memories, like Beaumont's, are not diluted by the present.
"I was really engaged…completely," Vazquez said of his classic Sonic memories.  "I think it's timeless."
Timeless could easily describe many of the works on display, not just Vazquez's.  From The Study, an acrylic paint and colored pencil work from Nelson Diaz, to the customized Kidrobots of Sonic and Tails developed by Kasey Tararuj, to the paper model of the Sonic 1 title screen emblem that can be downloaded for free for those at home to assemble, there is something unique, special, and in some cases, homely about all that's on display.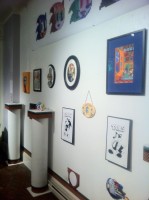 Beaumont has several of his own works on display, including two "classic cartoon character" inspired designs of Sonic and Tails.  Those in particular were a change of pace for him, especially since as an artist, he said he hadn't finished any drawings in some time.
"I look at Mario and I look at Sonic, and the cartoon gloves, and I think it's funny to imagine an alternate timeline where Sonic has been around not for 20 years, but maybe 60 or 80 years," Beaumont explained.  "That was kind of my concept with the piece, taking it back to Sonic's version of Steamboat Willie."
Beaumont, a native of the city, said it was important for him to showcase the whole exhibit in his hometown, both personally and professionally.  The Autumn Society, who co-sponsored the event, is based in Philadelphia.  But it was also "an excellent excuse to come back and see a lot of friends," Beaumont explained.
If something really tickled your fancy, you could buy it.  Reprints were available in some cases at a cheaper cost, and by the time 7 o'clock rolled around, one of the original exhibits had already been sold.  But it may be best to hold off adding to your art collection, as Beaumont said he could see subsequent shows, should this one prove to be a success.
"If this was successful, definitely more Sonic shows," Beaumont said.  "I would definitely like to put on more pop culture shows."
The Sonic Generation Art Show runs through the end of the month at Brave New Worlds in Philadelphia.  It may not be a Summer of Sonic or a Sonic Boom, but amid the standard nightlife and occasional carolers, you will still appreciate the talent, dedication, and above all, the simple memories.