Sonic CD Stardust Speedway Theme Takes EU PSN Store by Surprise
by Tristan Oliver
December 7, 2011
A Pleasant and Free Surprise
We're not sure if this was deliberately planned as a surprise, or if fans will briefly benefit from another trademark Sega slip-up.  But we've received a tip in, pared with a couple confirmations on various message boards, confirming that a Sonic CD dashboard theme is available to download free of charge on the European Playstation store.
Tundiam, who tipped us, tells us the theme is "new and amazing." Judging from some early pictures posted by SSMB forumer Hogfather, it is.  The theme, from the climactic Metal Sonic race in Stardust Speedway, carries both a good and bad future motif.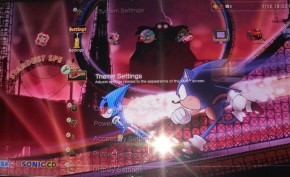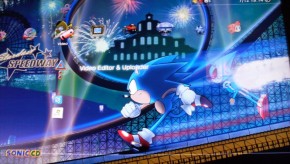 If a legitimate release, it's likely to drop on the US PSN soon, though when is anyone's guess.  We also want to be clear this is just a dashboard theme; the game is not yet available to purchase.
As soon as we can show you something, we will.  In the meantime, we thank Tundiam for tipping us.  If you have news to share, be sure to share it with us.  Click Send Tips at the top of every page, or tip us on Twitter.