Ken Penders Introduces New Julie-Su, Lara-Su GNs
by Tristan Oliver
December 29, 2011
"A lot of the questions fans have been asking will be answered"
On Wednesday evening, well ahead of a trial next month many fans of the Archie Sonic comics will be sure to watch closely, former Sonic comic writer Ken Penders introduced the new character design for Julie-Su.  The design is planned for use in upcoming Lara-Su branded graphic novels Penders intends to pursue.
"As a great fan of the work of Jack Kirby, I always loved the Fourth World approach he used to bring forth his New Gods concepts," Penders said. "Just as Jack used the JIMMY OLSEN and SUPERMAN series as his starting point, so too am I using the stories I created for the Knuckles character as a springboard for what comes next."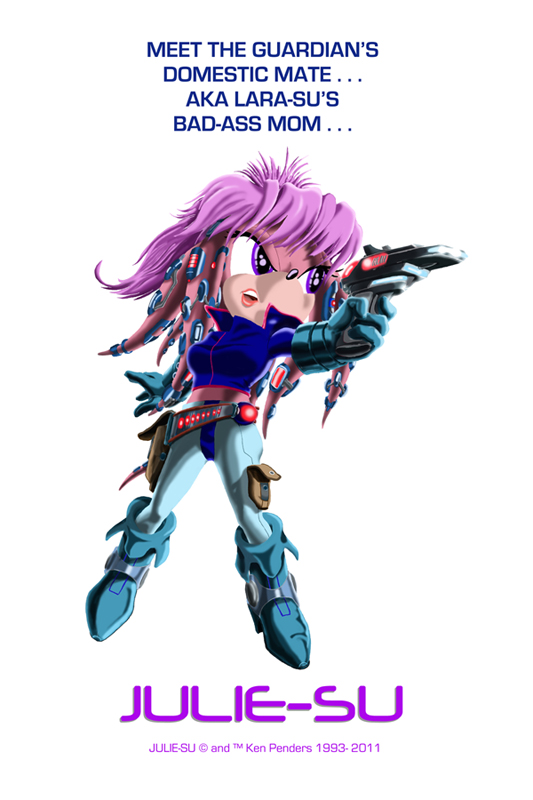 Penders says Julie-Su will be included along with the previously announced Lara-Su in upcoming graphic novels titled The Lara-Su Chronicles.
"Anyone familiar with the Knuckles material I created up to and including SONIC #124, along with any incarnation of the MOBIUS: 25 YEARS LATER material I also created, which is widely considered canon by the fans, will be well prepared for what comes next," Penders continued.
Here's the intriguing part: Julie-Su is not necessarily an old relic of the official Archie comics.  In fact, the character has been used as recently as issue 212 in the main comic, as well as issue 12 in Sonic Universe.
Obviously, with these plans in the mix, it is sure to make the ongoing legal dispute that much more important to resolve.  TSSZ will bring you developments from the Archie v. Penders trial in late January as we are able.  We'll also bring you any relevant developments filed in preparation for the trial.