Sega Sammy Stock Closes Up on S4:E2 Announcement
by Tristan Oliver
December 29, 2011
Keeping Up with the Market's Up Day
We do like seeing how the mothership's stock trends when Sega makes major news, and today will be no different.
The formal announcement of Sonic 4: Episode 2 early this morning may have helped SGAMY on the pink sheets keep up with the rest of the market's up day on Wall Street.  At the close of trading today, the stock closed up nearly one and a third percent to $5.38 a share.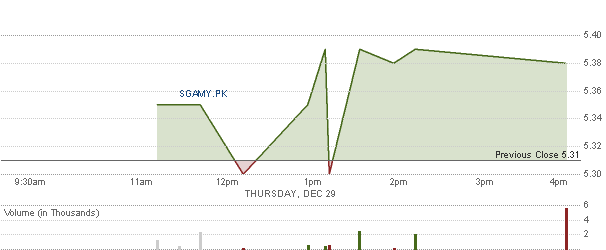 Stock Courtesy CNBC.com
There were bits and pieces of the day where the stock hovered in negative territory, but that appeared to be normal fluctuations, not tied to anything in particular.  For reference, all three major averages on Wall Street today closed around one percent higher.
When Sonic 4: Episode 1 was made official in February 2010, the Sega Sammy stock jumped a bit more than 1.7 percent.  However, that was when the stock was in sub-$3 territory; the price has nearly doubled since.