UPDATE: Archie's SSS#2 Revealing S4:E2 Release Timetable?
by Tristan Oliver
January 19, 2012
Does Magazine Tease Spill the Beans?
Sega, to this point, have been silent on what to expect from Sonic the Hedgehog 4: Episode II.  But that doesn't appear to be stopping Archie Comics, which may have inadvertently given fans a more concrete idea of when to expect the downloadable title's release.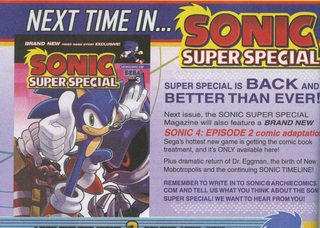 Through the news tip of Charlotte, TSSZ received the above scan, coming from another community scener, The Shadow Emperor.  It's from the back preview page of Archie's Super Sonic Special #2, which is not out on newsstands yet, but given that it will by this time next week, could have already shipped to the magazine's subscribers.  In plain sight, you see a tease for a Sonic 4: Episode II adaptation planned for Super Sonic Special #3.
If this holds, it may mean two things.  One, given the issue's proper release next week, it may mean Sega will have formally unveiled something more substantial about Episode II by that time.  But the second and most important thing is, given Archie's quarterly release of the Sonic Super Specials and the tendency to tie in game adaptations inside issues to the time of the game's release, Sonic 4: Episode II could be released as early as late April or May.
UPDATE: Since hearing from the original scanner The Shadow Emperor, who vouched for the scan's authenticity, we're pulling this out of the rumor file and treating this as legit.  That of course means a couple of things, including the prospects of seeing something more substantial from S4: E2 quite soon.  Stay tuned.