Crush 40 Reveals Peek at Upcoming Songs
by Tristan Oliver
January 23, 2012
What's "Sonic Youth," And Why Does it Reference Past Sonic Adventure Themes?
Today via the band's Twitter feed, Jun Senoue and Crush 40 revealed in a photo small details concerning upcoming songs being worked on.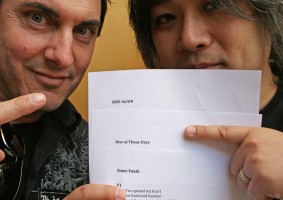 You'll notice three songs, including Rise Again and One of Those Days.  But you'll also notice a third at the bottom titled Sonic Youth that, with the lyrics of I've opened my heart, I've lived and learned, reference previous image themes to Sonic games.  But before you start signing the praises of Sonic Adventure 3, it's only two lines of text, and there certainly should be more to the meat of the song than just that.  But Sonic Youth in particular bears watching, because given its reference, it could at minimum be a glimpse of what to expect for the next Sonic.
While the feed did note Crush 40 are working on these songs, it remains possible what we see above could ultimately end up as test or demo tracks.  Still, we will keep tabs.