"Episode Metal" Lock-On Confirmed for Sonic 4
by Tristan Oliver
April 5, 2012
Metal Sonic to be Playable with Both Episodes Purchased
Minutes ago on Gamespot's On the Spot broadcast, Sonic 4 brand manager Ken Balough confirmed Metal Sonic will be playable via an updated "lock-on" technology implemented in both episodes Sonic the Hedgehog 4.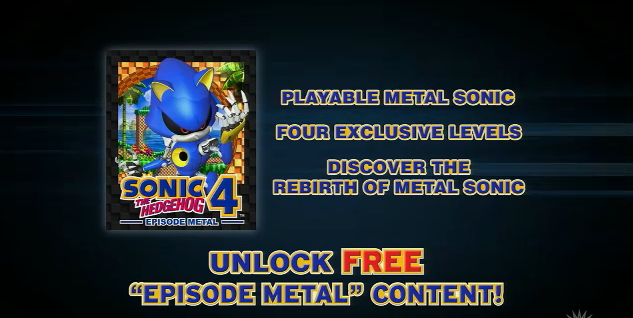 Balough explained in the podcast that special altered levels will be available to players who have purchased both Episode I and II for Metal Sonic to move in.  A total of four "exclusive" levels will be included and presumably be unlocked upon detection of both main episodes.
That and confirmed release dates are the big and arguably sudden news to come out of today's On The Spot interview.  There was no advance warning given by Sega this time, only about an hour's notice from Gamespot.  Stay with TSSZ as we bring you more information on today's Sonic 4 events.