Sega AP Lists Unannounced Title on LinkedIn
by Tristan Oliver
May 3, 2012
What Else Does Sega Have in Store?
Paging Matt Hickman from Sega of America–one of our news tipsters caught you very nearly letting the cat out of the bag with the "Unannounced Title" you're an associate producer on.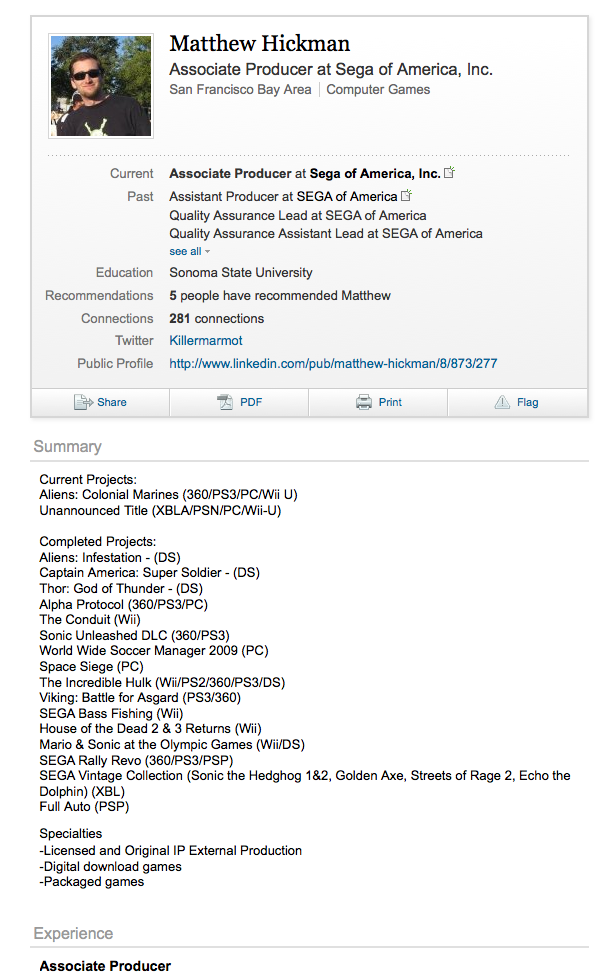 News tipster Shaun Riley tells us Hickman listed the unknown title on his public LinkedIn page, and it checked out.  Hickman isn't giving a ton away, but given how he has listed the game for XBOX Live and PSN in addition to PC and Wii U, it is safe to assume this will be digital only.  It is also safe to assume what this isn't, which is ASR Transformed.  It's not totally out of the question this references Virtua Fighter 5: Evolution with a couple unannounced systems for the brawler, or even something like Hell Yeah!  But if those possibilities don't pan out, this may be something new.  What that is could be anyone's guess, as Hickman's resume with Sega stretches such a wide variety of projects, it's hard to pinpoint a focus.
We'll try and get some clarification, and we'll report back anything we can learn.  In the meantime, we thank Shaun Riley for tipping us on Twitter.