Sega Sammy Stock Closes Up on Restructuring News
by Tristan Oliver
June 28, 2012
The Sad Silver Lining to Today's Developments
Whether one likes it or not, games are like any other business in the world: Their sole purpose is to make money and, in the case of publicly traded companies, increase investor value.  Today's news of Sega streamlining and outsourcing much of its operations in Europe and Australia is bad news for the many who will lose their jobs, but it was good news for those who hold shares of Sega's parent, Sega Sammy Holdings.
On what was mostly a down day for Wall Street, the price of SGAMY on the Pink Sheets went up and stayed up once the restructuring news broke.  In the end, Sega Sammy stock closed up almost 1.2 percent, to $5.10 a share.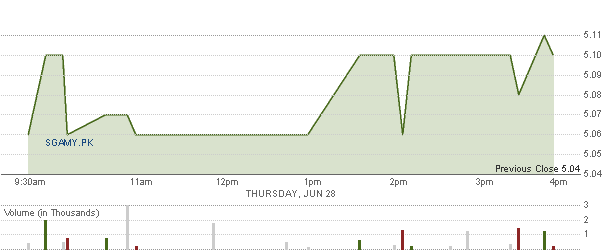 You can see in the chart above from CNBC that the stock price and trading volume spiked immediately once news of restructuring broke.  It then leveled off some, only to spike again in afternoon trading.  In all, the stock was never down during the day from Wednesday's stock price, and volume hit nearly 17,000 shares–which means a lot of people were watching the developments in Europe today, and more people bought into it than those who didn't.
In short: A few people likely made money off the backs of plenty soon to be former Sega employees today.