The Sights and Sounds of Sonic Boom 2012
by TSSZ Staff
July 17, 2012
Shayne Edwards Writes About Her Experience
The Loot:
When they started letting us inside the door, SEGA handed out the freebies differently this year. Instead of grabbing stuff from a table off to the side, they would actually hand you packed bags of free stuff as you head INSIDE the House of Blues. This is much better than what they did last year, as it ensured that people got all their stuff as they came in (Julian was one of the guys manning those tables, so we got to say hi). Freebees included the Sonic Boom 2012 T-Shirt, the Sonic head hat, a random Archie Sonic comic, and a VERY NICE quality metal keychain, shaped as a Chao, with the Sonic Boom 2012 logo engraved on the back.
My Impression: Some items were much better than last year's items. Particularly the keychain and getting a random comic. (Good way to introduce people to the comics if they hadn't read an issue before). The Sonic head hat needs to change out next year, I got like 5 of these things now. I wasn't too impressed with the shirt design this year, last year's shirt design was better. But at least they got the Sonic Boom logo on it this year.
The Food:
The Food provided was a-plenty, and good! There were food tables provided throughout the two-story building, and anyone who was hungry could just find the nearest table and grab food. Their cheesecake squares were to DIE for! Anyone who wanted soda could go up to one of several bars located throughout the building, and the drinks just kept coming.
My Impression: This is above and beyond the food offerings from last year, where you had to pay 10 dollars for a dinky sandwich. $20 is MORE than worth the entrance fee for unlimited food and drinks, especially since you weren't allowed to bring food in from the outside last year. Anyone who whines about the lack of chili dogs is really not seeing the bigger picture here.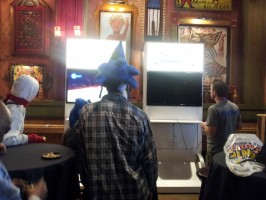 The Demo:
Five stations to play ASRT. FIVE. That's it. That was shortened from the dozen or so stations that SEGA had set up for Generations last year, and still less stations than the number you could find down at the SEGA Arcade. But considering the layout of House of Blues, it was probably a matter of trying to find the right kind of room to set up the stations.
My Impression: Disappointed by the fewer number of stations for people to play ASRT, but can see the reason why. Perhaps could be looked into for next year.
The Concert:
I'm gonna break this down by the songs played, and I'll make note of particular incidents of songs played. ALMOST EVERYTHING was in their full version this year:
Sonic 4 Episode 2 music (a medley of different songs from the game)
Sonic Generations title cutscene (the cutscene of Sonic running through White-Space)
Seaside Hill Act 2 (Sonic Generations)
Speed Highway Act 1 (Cash Cash, Jun Senoue remix from Sonic Generations) – Crowd was chanting 'Up and down and all around' in proper spots.
Stardust Speedway (US version, Cash Cash vs Jun Senoue remix)
Radical Highway Act 1 (Cash Cash, Jun Senoue remix from Sonic Generations 3DS)
Big Arms (Cash Cash, Jun Senoue remix from Sonic Generations 3DS)
Open Your Heart
Sonic Heroes (opening version)
What I'm Made Of
Rise Again
Sonic Youth
Super Sonic Racing (Cash Cash, Jun Senoue remix)
Reach for the Stars – Letting Jean-Paul sing live was a BAD idea. He kept hitting off-key notes, and does better when he's behind the auto-tuner. Alex can sing because he's using his little auto-tuner thing.
Party in Your Bedroom – I realize this is one of Cash Cash's signature songs, but this song should NEVER of happened. Kinda inappropriate (my friend was like 'Is he singing about playing games or having sex?), and unlike Crush 40's "Rise Again", NO ONE was impressed with this song. Where people were jumping up and down and moving and singing before, it died down considerably during this song. It took Jean Paul saying "In the name of Sonic the Hedgehog, let's sing this last chorus!" to get anyone to do anything.
Sonic Boom (Crush 40 vs Cash Cash) – Johnny missed his cue to sing at the very beginning here. Oops.
Escape from the City (City Escape, Act 1, Cash Cash version) – ONLY THE CROWD was singing this song. During this time, a fan in an Amy costume was invited on stage to lead the vocals.
Live and Learn – Johnny got ahead of himself during part of the lyrics.
My Impressions: There's good and bad stuff about this year's concert. The concert was double the length of last year's show (one hour this year), and almost ALL the songs were played in full length, unlike last year when a good number of songs got chopped up. The main concerns lay with letting Jean-Paul from Cash Cash sing live (last year, only Alex was there and he sounded fine on the autotuner), Johnny missing a few cues (minor), and, as one of our friends pointed out, having BACKING track music instead of a full live band. If Crush 40 could sweeten the pot next year by either getting other band members, or getting guest sitins to play other instruments, that would make the show MUCH better! I'm sure there are plenty of fans who are more than capable of helping out. Cash Cash, on the other hand, leaves a lot to be desired.
The Q & A with Iizuka and Lycett
Naomi Kyle from IGN apparently is the Announcer this year as she introduced the Q&A panel for Iizuka and Lycett.  Iizuka had his translator with him. By this point, all electronics had failed, and apparently no one has the video of the Q&A panel, but I do remember some key points.
People are asking for Sonic Adventure 3, and apparently Iizuka has said that maybe in the future, there will be.
There are NO plans for Marine the Raccoon.
Silver and Eggman Nega are from the future, while Blaze is from an alternate dimention. The explanation for her presence in the future during Sonic 2006 is that apparently the two of them got amnesia. (Not…kidding…here).
SSonic Colors and Sonic Generations short gameplay is attributed to the fact that the time was spent putting detail into the levels, which made for a short game. SEGA is aware of this and are seeking to correct this in the future and hope to make a longer game (at this point, the entire house was chanting "SA3! SA3! SA3!" for this)
My Impressions: Iizuka, apparently, is now fully aware of the American audience's want of a 3rd Sonic Adventure (SA3 was NOT brought up at Summer of Sonic Q&A panel), so we need to keep an eye and ear out in the next few years. The explanation for Silver, Blaze and Eggman Nega was totally stupid and only served to further confuse the Sonic 2006 storyline. And why is someone from IGN being the announcer this year?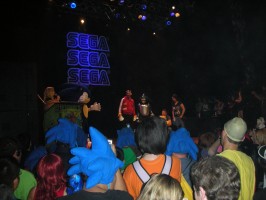 The Sonic Cosplay Contest
Lots of cute costumes this year, plenty to go around. I had some friends dress up for the cosplay. There was a Joe Musashi, another as Maria, who turns out was someone I knew, someone dressed as a Genesis, and one person got the nerve to dress up as Mario.
3rd Place: Baby Tails – apparently there was a little child, perhaps no more than 2, dressed as Tails that the Judges (Iizuka, Lycett, Senoue) unanimously agreed was third place. Cute factor wins the day here.
2nd Place: Japanese Dr. Eggman – Someone who could not ONLY pull off the look of Dr Eggman, but perfectly nailed introducing himself as Dr. Eggman IN JAPANESE.
1st Place: Mecha Sonic (Sonic 3) – A kid who only spoke Japanese made a freaking AWESOME Metal Sonic costume out of…cardboard or paper-mache or something. But it looked GREAT.
My Impressions: All three winners were predicted. I remember seeing Mecha Sonic outside the House of Blues before it opened and EVERYONE up and down the street was cheering at him. Well deserved.
The Sonic Trivia Contest
Six lucky fans were chosen to sit with Ken Balough (Team Needlemouse) or Steve Lycett (Team Sumo) for the trivia contest. A lot of the questions were easy, but some stumped me. Questions were chosen from different categories, including the Archie comics and SatAM. Team Sumo won the contest.
My Impressions: This is where Naomi Kyle REALLY started to fail as an announcer. She was the one who asked the two teams all the questions, COULD NOT PRONOUNCE "ECHIDNA" right, screwed up what answers went with what question, and even failed to give the right answer when both teams were wrong. Sorry SEGA, but Naomi should NOT be invited back next year. Get a real community head that's a fan to be the announcer next year, not some hot blonde that just happens to be part of a Video Game community.
The Announcements
The final leg of the night ended with announcements from SEGA. Announcements kicked off with the same ASRT trailer featuring Nights and Reala that was shown at SoS the week before. TRiPPY, a well known Nights fan, was on stage to talk more about her endeavors of working in the Nights community, and what she did before in petitioning to get Nights into the first ASR game.
ASRT opening CGI was shown, accompanied by a release date of 11-20-12 for North America.
Next came the OFFICIAL announcement of Sonic Adventure 2, with the trailer poking fun at the fact that the game reveal was leaked before.
Next, Rich Moore, the Director of the upcoming Disney film "Wreck-It Ralph" came out to talk a bit of how he loved video games, and that he was finally making a movie about video games, and wanted a lot of video game characters in it, including Sonic the Hedgehog. Two clips were then shown, the first one of Ralph being at the "Bad-Anoym" meeting with Dr. Eggman and others inside the Pac-man game with Clyde the Orange Ghost. The other clip showed Ralph walking through Game Central Station, and a video PSA of Sonic the Hedgehog (voiced by Roger Craig Smith), giving an important plot point, that if a video game character dies outside their own game, they do NOT regenerate. (This is important to keep in mind because Ralph goes Game-Hopping throughout the movie).
Steve Lycett joins Rich Moore onstage to talk more about Wreck-It Ralph, and what more there could possibly be to this SEGA/Disney relationship, before another trailer of ASRT was shown….this time announcing Ralph's inclusion to the ASRT cast of drivers. Ralph's vehicle includes being a truck, a helicoptor, and an air boat.
My Impressions: I was disappointed at first to see the Nights ASRT trailer again, since we had already seen this during SoS, though it was interesting to see TRiPPY herself on stage. I thought the official announcement trailer for Sonic Adventure 2 was funny. But what really nailed it for me was the Wreck-It Ralph announcements, which I thought was absolutely cool. Not only does Sonic get to score an important cameo, but it's also been learned that Nintendo star Mario will NOT be in the Wreck-It Ralph movie, because Nintendo wanted too much money to have him licensed. That's why only Bowser is seen.
And Finally
Coming to the end of the night, we found some interesting tidbits about Sonic Boom. A rough estimate of 800 tickets were sold for the event. Also, SEGA was unable to stream the event, because of the laundry list of things and prices SEGA would have to do to get an internet connection for ONE computer from House of Blues was ridiculous. So don't blame SEGA on this one. Perhaps SEGA can find a better venue for next year to make things bigger and better. We certainly hope so, because Sonic Boom is shaping up to be a good place for the American folks to go.
—-
Shayne Edwards reports from San Diego.  We thank her and the team at SonicRadio.net for helping us cover this event.  A selection of photos from Sonic Boom taken by Shayne is below.  On Wednesday, we'll share some candids from the Sega Arcade.  Disclosure: SonicRadio.net is an affiliate of TSSZ
.