SAGE 2012 Overview: Sonic Small World
by Tristan Oliver
August 7, 2012
It's a Larger World After All
The programmer behind the celebrated NiGHTS fan game Lost Reverie, Core, is back with some Sonic speed for this year's SAGE.
Sonic: Small World debuts its latest demo at the expo.  Set in a 3D world and based on the mechanics of Sonic Adventure with improved physics, the one-stage demo has been lengthened from the previous build.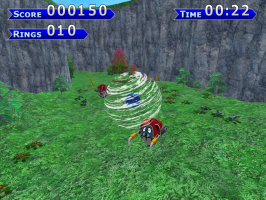 To play the game, go to SAGE, click Games, and click on the Sonic Small World booth icon.  You'll be greeted with a download link and several screenshots, one of which we have on the right hand side of this story.
There is more to come from the 2012 Sonic Amateur Games Expo all week here at TSSZ.