SAGE 2012: Sonic Before (and After) the Sequel
by Lou Balzani
August 9, 2012
LakeFeperd and Falk Speak Out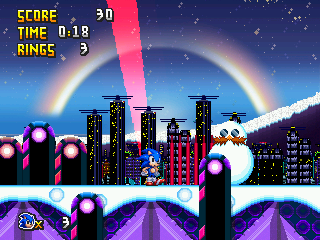 Sonic Before the Sequel was a smash hit at last year's Sonic Amateur Games Expo, and creator LakeFeperd has returned to the scene with two titles to show this year: an updated version of last year's creation, and a new game called Sonic After the Sequel. We sat down with LakeFeperd and music guru Falk to get their thoughts about these projects and what the future holds. You can check out the updated version of BTS here and learn more about ATS here. As always, you can catch up on all the latest SAGE happenings on the expo's main page.
—
Interview with LakeFeperd
TSSZ: Why did you create Sonic Before the Sequel and Sonic After the Sequel, and what did you hope to accomplish with these games?
LakeFeperd: Since I was a kid, I've always wanted to make a Sonic game. I found out about Sonic Rebirth, and that was when I learned about the Sonic Worlds engine. I got it, found it was quite easy to use, and I just enjoyed making those games a lot. My goal is one day to become a great game/level designer, and that is actually the main reason why I'm working on those games.
TSSZ: There are lots of fan games at SAGE this year. What do you think makes your productions stand out?
LakeFeperd: Probably because people are hyped up for them. There are quite a lot of great games this year.
TSSZ: What tools did you use to physically create your games?
LakeFeperd: A good computer. As for engines and programs, I use Photoshop for image editing, Flash for the animations, and Multimedia Fusion 2 with Sonic Worlds 0.5 for the actual game.
TSSZ: Can you describe the general creative process you undergo to design and build a level?
LakeFeperd: I usually start drawing some concepts on paper before I start working on them in Photoshop. With that out of the way, I start to design the badniks and gimmicks, and then I go for the level design itself. That is just for ATS; for BTS, I pretty much mixed up stuff from original Sonic games with some custom stuff.
TSSZ: Approximately how long does it take you to create a game from start to finish?
LakeFeperd: BTS took about 1 year to make. It started earlier in December 2010, and it got finished at the end of 2011. I'm pretty sure the same will happen with ATS, given that its development started at the end of 2011 right after I finished BTS. It might be finished at the end of this year.
TSSZ: Which fan game at this year's expo are you most interested in trying out?
LakeFeperd: Strife's Freedom Planet. It's very good and it shows that everything can be done if done right.
—
Interview with Falk
TSSZ: How are you involved with these fan games? Can you elaborate on how you got involved and how you contribute to them?
Falk: I'll be involved in ATS's music, I just literally haven't had the time to sit down and even analyze the zones and come up with an overall game plan just yet. In terms of where it all began, I had just played Before the Sequel last year and while I loved what Lake did with the initial set of songs, I wanted to challenge myself to see if I could put together an original soundtrack to give the game a musical identity of its own. I pitched this idea to Lake, and he graciously allowed me to then turn his creation into my own personal playground and training camp. Just because I'll be taking a similar role for ATS, let me describe what that entailed for BTS. Essentially, I laid out an overall game plan in terms of BTS's new aural identity – from music pacing across the entire game's 11 zones (actively trying to mellow down the middle of the game and bring up the intensity towards the end etc), to genres represented, to figuring out which parts of the game could benefit from some interactively swapping music (like Lake used for Lost Levels 3 – it's now implemented in Titanic Tower).
I composed the majority of tracks for BTS, scouted other people whom I thought would be able to contribute to a cohesive vision…well, cohesive sound in this case. Andy Tunstall, Funk Fiction and KgZ are all amazing and I'm glad to have been able to work with them. I then took the extra time to touch up and rebalance everyone's submissions (including my own) to present a 2-disc album alongside the game's release – the industry standard's mastering stage. BTS-related workload had been escalating all the time literally up to August 4th, which is when the absolute latest deadline to upload builds for SAGE was, and when we wrapped off the last two tracks. We won't be making the same mistake for ATS.
For ATS, we're hoping to welcome a couple more new people that Lake had in mind. We'll definitely cover the special stages and cutscenes this time around, and all the miscellaneous things like menu music and such. I'll be taking more of an overseeing role. I'll still possibly do a zone (or two) but not 2/3 of the music like I did in BTS. I'll probably end up scoring most, if not all of the cutscenes. Due to the much more polished nature of Lake's level design in ATS, the levels last a fair bit longer, and this time around the stage music is going to range from 1:45 to 3:00. (In BTS they were from 0:50 to 1:30). While this may seem like a lot more work, I also want to experiment with the team remixing each other's music for the different acts, which should keep things fresh both for us and for people playing through the game. This is a lot more organizational work though, so we'll see how that pans out!