Win a Sonic x Hello Kitty Plushie
by Tristan Oliver
August 28, 2012
Announcing the Campaign KittyHog '12 Contest
On this, the first proper day of the political party conventions in the United States, we announce another contest where your campaigning can net you a nice prize.
Are you disgusted by your elected representatives?  Can't fathom putting Mittens on?  Are you just Obummered out?  Has your third party withered away from being a once great force in gaming?  Allow us to nominate a new ticket: Sonic and Hello Kitty.  We want you to promote the Sonic / Hello Kitty campaign.  What are they running for?  That's for you to decide.  Make a virtual button.  Make a campaign poster.  Make a Youtube video "ad."  You can even make an attack ad.  Not artistically inclined?  Write some campaign taglines.  The more unique and creative you are, the better.  Just as it was when we held Campaign Chronicles '08, your entry can be as serious or as funny as you want.
Your entry can be submitted two ways, either via E-Mail to contests -at- tssznews -dot- com or by tagging us on Twitter.  Be sure to include @tssznews in your Tweet as well as the hashtag #kittyhog12 so we can find your entry!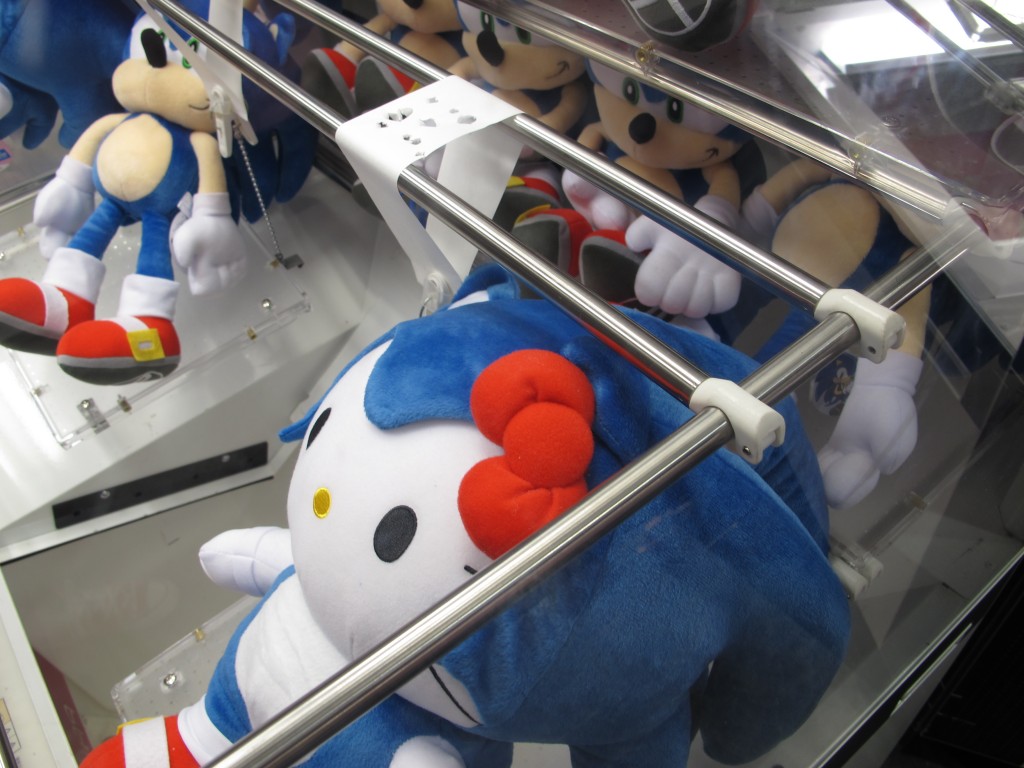 We'll share all valid entries in a gallery here once a winner is declared, but the most creative one will win what you see above: A single Sonic x Hello Kitty plushie.  Because of their limited availability in Japan, paired with the fact they won't be coming West until next year (and even then, we're unsure in what quantity,) the items have become quite valuable on the auction circuit.  Our Japan based correspondent Danny Russell managed to get his hands on a couple of them, and he's agreed to give one away for this contest.
Here are the contest rules:
1) No submissions will be accepted after midnight ET on September 30, 2012. A month should be plenty of time to plan your campaign!
2) Keep your entry within the guidelines of good taste.  We have a good sense of humor and encourage your campaign to get creative, but TSSZ News LLC reserves the right to reject any entry which crosses a line with regard to hate speech, sexual content, or items that would otherwise be generally considered offensive.  Keep it within context, and you'll be fine.
3) Only one entry per person. Duplicate entries will be disqualified, so make your campaign count.  The only exclusion to this rule is if a participant intends to write multiple campaign taglines, in which case all must be submitted at or around the same time.
4) Plagiarized entries will be disqualified.  Don't copy someone else's idea.  What constitutes plagiarism will be determined by TSSZ staff on a case by case basis.
5) This contest is open to anyone who has a valid shipping address  No matter where you are in the world, don't be afraid to enter.  As long as we have a way to send you the prize, don't feel afraid to submit an entry.
6) Decisions of the TSSZ staff are final. The entire TSSZ team will decide a winner by a simple majority vote.  Any concern about an entry violating rules will be discussed and deliberated among TSSZ staff.
7) A winner will be announced on or about October 10th, 2012. The winner will be notified by E-Mail or Twitter DM prior to an announcement on the front page of TSSZNEWS.COM.  Be sure we have a way to reach you when you submit!  If we have no contact information for you, you will forfeit your prize, which will then go to the runner-up.
8) TSSZ News LLC reserves the right to alter the terms and conditions of the contest at any time, without warning and without notice.
9) This contest is not endorsed, sponsored, or affiliated with Sega Sammy Holdings or any of its subsidiaries, including Sega Corporation.
In closing, get campaigning!  We look forward to seeing what you create!