JP Anime with Humanized Sonic Greenlit
by Tristan Oliver
September 4, 2012
"Aoi Sekai no Chuushin de" Based off Sega v. Nintendo Parody Manga
When it comes to crossovers, at least, consider this one step forward and two steps back.  Yet another mix of Sega and Nintendo is in development, this time unofficially via a new Japanese ANIME series adapted from the manga Aoi Sekai no Chuushin de, according to the ANIME News Network.
The twist is that the manga contains human parody forms of both Sega and Nintendo characters, including Super Mario, Zelda, and Sonic.  To be sure, here is a page featuring the Sega inspired cast in the manga, including a proclaimed Speed of Sound known as Gear, and the brother who longs to be like him, Thiru.  To be extra sure, below is a photo of Gear from the manga.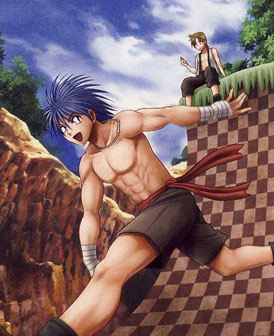 Other Sega franchises loosely represented include Phantasy Star and Puyo Puyo.  No timetable has been given as to when this will be seen on Japanese television–or when Sega and Nintendo's lawyers will get involved.  Thanks to Sega Memories's Aaron Foster, who helped sort this out for us via Twitter.