Authorities Drop Ex-Retro Admin Sex Abuse Investigation
by Tristan Oliver
September 6, 2012
Wyatt, Grimes Speak About Ordeal
TSSZ has learned authorities ended their investigation into Dustin Wyatt, the former Sonic Retro staffer accused of child molestation, without any arrest or charges filed.
Wyatt, known in the community as Tweaker, was removed from Sonic Retro after Courtney Grimes, the website's founder, learned of the allegations through a chat log given to her in a Skype session in late January.  The log, which TSSZ has obtained through multiple sources, is far too graphic to publish or even paraphrase in much detail.  Dated December 7th 2011, it shows Wyatt writing explicitly about what appeared to be alleged past sexual experiences, one of which was the hallmark of the initial claim made against him.  The log only shows him writing, with any other recipients' responses removed.
"Given how…incredibly disturbing this log was (and frankly, is) I had to ask a lot of questions: why is this log backdated to December?" Grimes told TSSZ.  "How do we know whether this is a fabrication?"
Grimes, known otherwise as Scarred Sun, told TSSZ representatives from Skype allegedly checked and confirmed the authenticity of the remarks transmitted upon request. We asked to see a copy of that confirmation; no copy was made available as of this article's publication.  Still, remarks do not necessarily mean actions, and Wyatt assured in a separate interview there is no truth to the actions implied in those remarks.
"None of the contents of the conversation are legitimate, and none of them could be verified in any way because they're not true," Wyatt said.
But after much deliberation, Grimes called police.  A third party present in the Skype session for the decision alerted Wyatt, who then left his home to be with family at their request. Police eventually caught up.
"I explained the situation as I was aware of it and after a while, they left. The next day a CPI worker interviewed the alleged victim after which she determined nothing had happened," Wyatt told TSSZ.  "I never heard from another police officer after this."
Wyatt also says none of Grimes's deliberation involved the two directly having a conversation about the material in dispute, which he was surprised at.
"You'd think that in any situation, especially of such a sensitive and serious nature, that she would at least try and discuss it with me first, or give any indication that she was interested in clarifying the situation," Wyatt said.
Grimes publicly announced the accusation through the Sonic Retro message board on January 26th.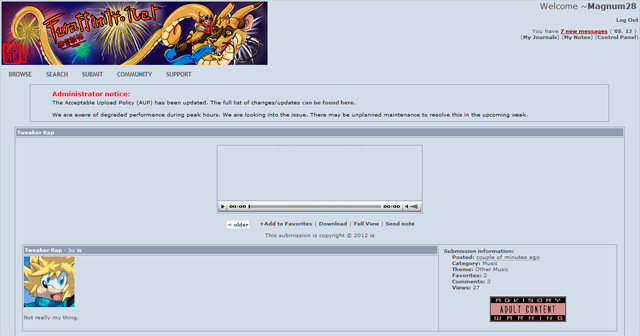 Beyond that announcement (and our subsequent article,) one of the ways word spread was via another Retro staff member.  Documents provided to TSSZ from sources indicate contributor David Spencer, known as InstantSonic, allegedly spread the details of Wyatt's alleged crimes beyond the community and created disparaging audio clips concerning the matter.  One such example of the former is shown above; we have removed a portion of the screenshot seen that shows Wyatt's face.
"(Spencer) did do several things that I don't approve of," Grimes said, adding that his only role within Retro is to mix and occasionally join in on podcasts.  "He himself will tell you 'my actions were my own and I own that.' "
Spencer did not return TSSZ's request for comment.
Amid the spread, discussion that questioned Wyatt's guilt fermented, mostly in private and mostly from those outside the decision making process.   The most public example of doubt came from Sonic Fan Games HQ's front page on August 4th.  Wyatt wishes Grimes and others within Sonic Retro questioned the allegations more, and believes ulterior motives were behind the actions taken, including the initial log release.
"If this were really just about reporting a potential crime, things would not have gone as far they did, nor would they have transpired in the way they did," Wyatt said.
In contrast, Grimes says she intended to afford more information publicly as the investigation progressed, and claims to have conducted conversations with Wyatt on how to proceed with those updates.  In a follow-up, Wyatt claims those conversations were initiated with the help of a third party.
"He expressed to me privately the desire to have me update the topic, and I gave him a couple of compromises, and he decided it was better to let the subject drop," she said.
Grimes insists that, given the personal friendship she and Wyatt shared for years, the decision to report the activity was difficult.
"I did not sleep well the first few nights after I notified the authorities, not because I had doubts but because I sincerely did not want to ruin the life of my former friend who was finally starting to get his life together," Grimes said.
Wyatt tells TSSZ he has no intention to formally rejoin the Sonic fan community in the wake of this incident.
*****
Editor's note: Given the nature of this story, both Grimes and Wyatt were E-Mailed a final draft before it went to publication.  It is the first time TSSZ has ever vetted a story in this manner, and will likely be the last.  Edits were made after these consultations.