On Ebay, an Autographed Sonic 10th Anniversary Dreamcast
by Tristan Oliver
September 12, 2012
More History Up for Bids…At a Cost
Maybe you've given up on owning one of those elusive Sonic 20th anniversary statues.  Many still go for hundreds of dollars on the auction block.  Perhaps you've tried to save up a little cash for the cause.  In that case, perhaps we should draw your attention to something even more treasured.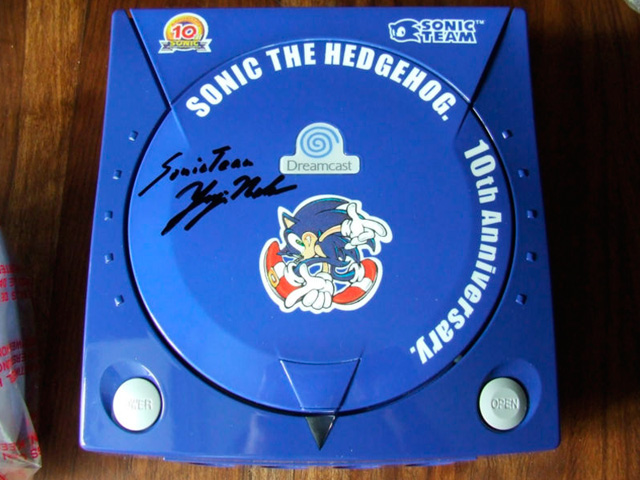 An Ebay auction posted to the Sonic Retro forums on Sunday by an Ireland-based seller shows a Dreamcast branded blue for Sonic's 10 anniversary.  Even better: The console is autographed by Yuji Naka.
"Sega Europe marketing arranged to have 50 consoles specially prepared but only 40 of these bore Yuji Naka's signature (lead programmer of Sonic the hedgehog), I know this because I was the person that assembled them!" the seller says.  "The standard European Pal consoles were stripped down and the casings sent off to be sprayed in the bright blue to match the European Dreamcast logo.  The GD drive lids were then sent off to Sega Japan for Yuji Naka to sign and then returned for varnishing to seal his signature for ever.  You can see a slight difference in colour between the GD lid and top casing, maybe Yuji's brilliance lightened the paint colour :)"
If you'd rather use the console for playing than posterity, you'll be happy to know the system still works, so says the seller.  But be prepared to cough up some money.  With less than five days to go until bidding closes, the high bid is already at €609, or more than $780 in US dollars.