Sonic Jump's In-Game Purchases Detailed
by Tristan Oliver
October 18, 2012
Prepare to Pony Up for Extra Rings
Remember when we said ring collection would be the key to unlocking new bits of Sonic Jump?  We didn't have much of an idea how important until just a little while ago, when we had a peek inside the iOS title's virtual store.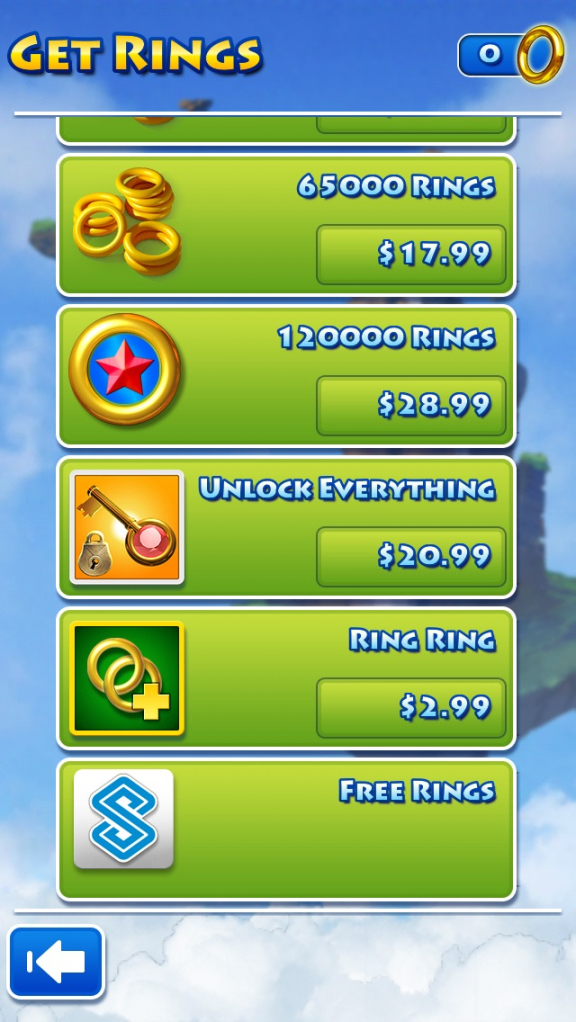 Tipster AugieD sent us the above photos on Twitter.  In addition to the $1.99 base charge to buy the base game, an option to unlock everything to date runs an additional $20.99.  Sets of rings can be purchased in several bundles.  They range from 99 cents for 2,500 rings, to $28.99 for 120,000.
In theory, one could spend more than 30 bucks on the game, and in all likelihood, that's exactly what Sega is banking on–that too many gamers won't want to put in the time and effort to master Jump.
If you've played Sonic Jump, afford your comments on the necessity of these quick buys below in the comments.  We'll offer our thoughts via a review in due course.