UPDATE: A new racer and two new tracks from Sonic & All-Stars Racing Transformed, leaked
by Andrea Gil
November 12, 2012
Another clone character, and two tracks for hardcore Sega fans
Sonic & All-Stars Racing Transformed is just around the corner, the game is going to be released this week, sooner to some, later to others. But pretty soon for Australians, since the game is due to release there next 14th, in two days. And, like always happens, some stores are selling it sooner that they're supposed to be.
That's exactly what happened. According to Spanish site Sonic Paradise, Daizyujin, an user from GameFaqs has already got a copy of the game, and is posting there the final details that Sumo hasn't already told to the public.
Daizyujin reveals there is two more racers to be revealed to the public. One of them is yet another clone character: Pudding, rival of Space Channel 5's Ulala, and returning character from Sega Superstars Tennis.
The other one is still a mystery, since this person hasn't unlocked it yet, but is the rumored " biggest piece of fanservice ever".
About the tracks, he already unlocked all the tracks hidden in the game. One of them is called "Burning Depths", and is based on Burning Rangers, a rather obscure Sega Saturn game developed by Sonic Team.
The last track is the so-called multi IP track. It's called "Race of Ages", and its a hologram like track with lots of nods to Sega's heritage and history. There are huge statues of famous Sega characters like Ryo Hazuki or Akira Yuki, large statues of Sega consoles like Master System, Saturn or Dreamcast, and lots of Arcade Cabinets.
He also revealed the grand prix track roster order, being this:
GP1
1. Ocean View (Sonic Heroes)
2. Samba Studios (Samba De Amigo)
3. Carrier Zone (After Burner)
4. Dragon Canyon (Panzer Dragoon)

GP2
1, Temple Trouble (Super Monkey Ball)
2. Galactic Parade (Sonic Colors?)
3. Seasonal Shrines (Shinobi)
4. Rouge's Landing (Skies of Arcadia)

GP3
1. Dream Valley (Nights)
2. Chilly Castle (Billy Hatcher)
3. Graffiti City (Jet Set Radio)
4. Sanctuary Falls (Sonic & Knuckles)

GP4
1. Graveyard Gig (House of the Dead)
2. Adder's Lair (Golden Axe)
3. Burning Depths (Burning Rangers)
4. Race of Ages (Sega Tribute Level)

GP5 (Note These Are All From The Last Game)
1. Sunshine Tour (Samba De Amigo)
2. Shibuya Downtown (Jet Set Radio)
3. Roulette Road (Sonic Heroes)
4. Egg Hangar (Sonic 2/Sonic 3)
Since this user hasn't posted any proof of his words being true, but there is a great chance to being real,we're putting this story as a Rumor. We will keep you informed when more info is revealed, or when it's confirmed to be true or false.
Stay alert!
Update: Rumor has been confirmed as this user has just posted a photo of the game with Pudding on screen. Also, the game is confirmed to be avalaible to purchase at Clarksville's IN Toys R us, at Louisville, KY area for Xbox 360 and PS3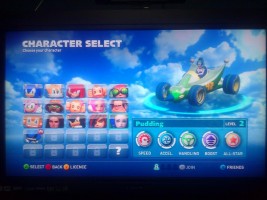 Tristan Update: Steve Lycett has confirmed the legitimacy of these leaks on the Sega forums.  It appears some stores in America and elsewhere have broken the street date.
He is leaking things that are in the game, so watch for spoilers. He hasn't done some of the tracks justice however, one of which is of course Graveyard Gig, personally I think you'll love it.

[….]

He bought the game fair and square. Toys R' Us shouldn't have broke the date, but that's a SEGA thing. Avoid the spoilers if you don't want to know!