UPDATED: Possible new DLC characters found in Sonic & All-Stars Racing Transformed data
by Andrea Gil
November 15, 2012
Chicken boy could be back
Sonic & All-Stars Racing Transformed data doesn't cease to surprise us. We reported about a few possible DLC characters, along with the third guest, exclusive PC character.
But looks like there is still more. Spanish site Sonic Paradise has reported about some other character files found on the game data. All of them are from the last game, no new characters, but…could them be returning characters, via DLC, too?
For the looks of it, some might, and some might not. There are data files about Akira & Jacky, a The House of the Dead representative ( probably just Zobio & Zobiko) and Billy Hatcher.
Akira & Jacky, and the HOTD representative both are labelled as "legacy", who might lead to think they are just leftover data from the first game, since there are other "legacy" files such as "KnucklesBikeLegacy" or "BeatLegacy", already present characters, who were also in the last All Stars Racing. But Billy Hatcher is different.
His files are located at the same place as other playable characters files are, and there is no hint of "legacy" labels on him either. Might the Chicken boy return in DLC form, or is it just leftover data too? We will have to wait until Sega talks about it, or until other fellow sceners find a way to swap the files and show the characters ingame.
Also, Melpontro, of Sonic Retro, found a way to make the Football Manager character playable, and here is the first image of him.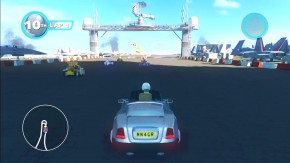 We will keep you informed.
UPDATE: Melpontro Just uploaded a video of Football Manager racing in game