Archie Fighting Proposed Dismissal of Penders Copyright Case
by Tristan Oliver
March 27, 2013
Settlement Talks Break Down with Much at Stake
Archie Comics is in serious danger of having its lawsuit against former Sonic comics writer Ken Penders dismissed, potentially making a bad situation for fans of the series and those involved with its production worse.
Counsel for Penders have requested the case be dismissed on the basis of a affirmation during a January status conference that both parties agreed to settlement terms, as well as an indication from Richard Berman, the judge overseeing the case, that the matter would be dismissed after January 21st no matter what, according to public documents filed with the US District Court for the Southern District of New York on Monday and obtained by TSSZ.  But counsel for Archie have disputed the claim that any settlement is official, and have filed an endorsed letter in the case urging judge Berman to deny Penders's request.
"We submit that this court may not dismiss this action 'with prejudice,' as requested by Mr. Penders' counsel.  This would inappropriate [sic] and greatly prejudicial to ACP's interests, since ACP has not had a full and fair opportunity to litigate in this proceeding any of the issues that are raised in the parties' pleadings," writes ACP attorney Joshua Paul in his letter to the court.
Paul's letter alleges that both Penders and Archie "concluded an understanding of the basic parameters of settlement during a mediation session held on November 29, 2012 and reduced that understanding to five deal points covering 15 lines of text in a signed Term Sheet."  But as we reported in December, a letter from Paul did use more concrete language in claiming "the parties reached agreement on the terms of settlement."
Counsel for Penders asserts that is enough, and cites the transcript of the January status conference between both sides.  The transcript shows an irritated judge Berman trying to understand why it's taken so long for the settlement to be finalized.  In one exchange, Berman appears to scold Paul for the delay: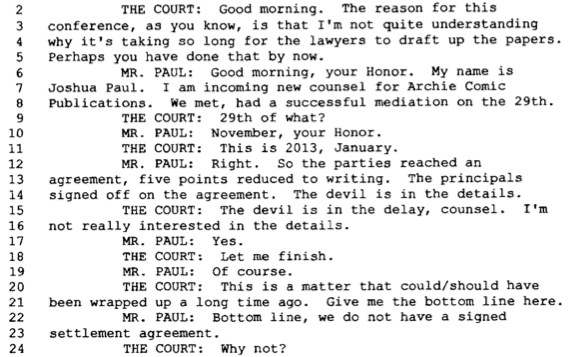 Paul said the exchange that "the core of the agreement will be in schedules" and that settling this matter "is the most important thing that [Archie] is dealing with right now, is to get rid of this litigation."
Judge Berman than appeared to set a deadline of January 21st, "at which time I'm going to dismiss the case," including counterclaims, according to the transcript.
But January 21st has come and gone with no settlement finalized.  Paul's letter on behalf of Archie alleges there is one matter still in dispute; it appears to be the extent of which Penders's copyrighted characters can appear like a Sonic character–in of itself a whole other can of legal worms:
A material term of settlement involved the scope of Mr. Penders' claim of rights to exploit certain claimed proprietary rights in the future.  Pursuant to the Term Sheet, Mr. Penders' asserted rights [….] if exploited by Penders in the future, would not "look and feel like they are a part of a 'Sonic Universe.'

[….]

The parties have attempted without success to reach agreement on the metes and bounds of Mr. Penders' Claimed Rights (Schedule A).  In the absence of agreement on this key point, there can be no agreement between the parties.
In a nutshell, attorneys for Penders hope to hold Judge Berman to his word on dismissing the case, whether there's a settlement in place or not. If that happens and no terms are in place, Penders would retain total copyright control over the matters in dispute with Archie, including some characters, storylines, and more–making it very difficult for Archie to continue with catalog releases, or bringing back characters widely believed to be purged in Sonic #244 back to the series. A dismissal with prejudice would not allow Archie to refile the lawsuit again.
It could also become a nightmare for both Sega and Electronic Arts.  You may remember that Penders filed a suit in 2011 against both companies, alleging material under his copyright was used in Sonic Chronicles: The Dark Brotherhood.  That case was dismissed but appealed to the 9th Circuit; the outcome of the Archie matter may determine how far this separate suit can go.  Having a whole set of tested, undisputed copyrights intact would be an incredible advantage for Penders against Sega and EA, and could potentially cost both companies dearly if they hold a second time.
Judge Berman has requested briefs by next week.  When we know something more about this case, we will pass it along.