Sega Accidentally Celebrates Sonic's 23rd Anniversary
by Tristan Oliver
June 21, 2013
The Internet Never Forgets a Leap Year
For some, Sonic will celebrate his 22nd birthday this Sunday.  For others, Sega and the fans that love him will celebrate his 22nd anniversary.  In both cases, the number, at least, is correct.  Unfortunately for Sega's case earlier today, the numbers didn't add up.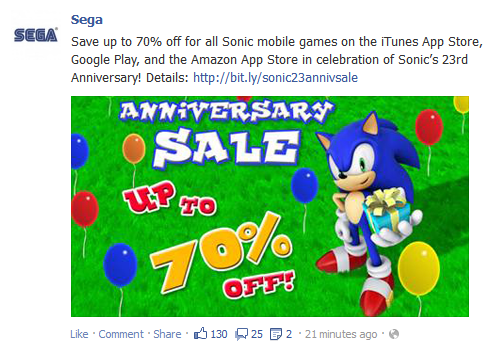 The above image from Facebook was screencapped by SSF1991 of Sonic Paradox.  It shows a rather harmless plug for a mobile app anniversary sale, with one major problem–the plug, both in text and link, was for Sonic's 23rd anniversary, which won't fall until next year.  Surely, however, it was an isolated, careless oversight that would not be repeated anywhere, right?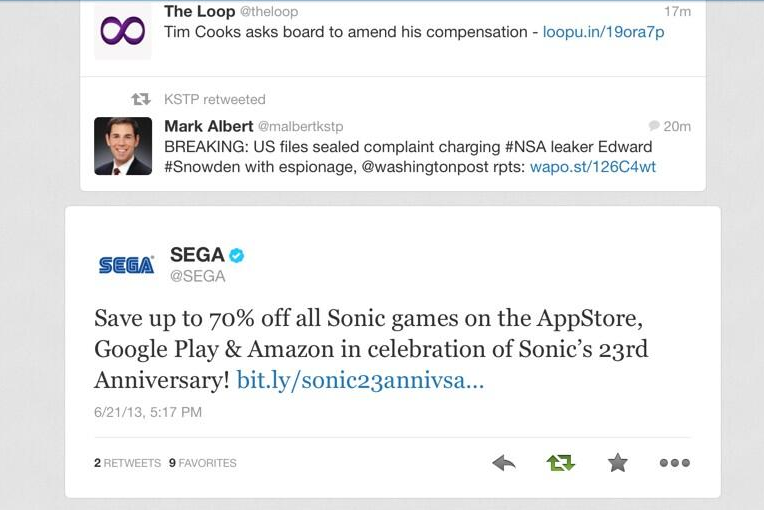 Wrong.  This screencap was provided to us by regular Twitter tipster AugieD, which shows the mistake relayed on Twitter as well.  It apparently reflected incorrectly on the actual Sega blog entry as well–though all three miscommunications have since been wiped and fixed.
These things happen to everyone–including us–but one hopes they don't happen to the house Sonic built in the first place.  We can always look on the bright side; for a few fleeting moments, we were one year closer to that epic 25th anniversary game.