UPDATE: German Localization Studio Lists "Sonic Reboot," "Sonic Urals"
by Tristan Oliver
June 24, 2013
Clues For What's Ahead, or What Exists?
A music, sound design, and localization studio out of Berlin, Germany has listed two Sonic games as projects for 2013, the German website Spindash.de reported today.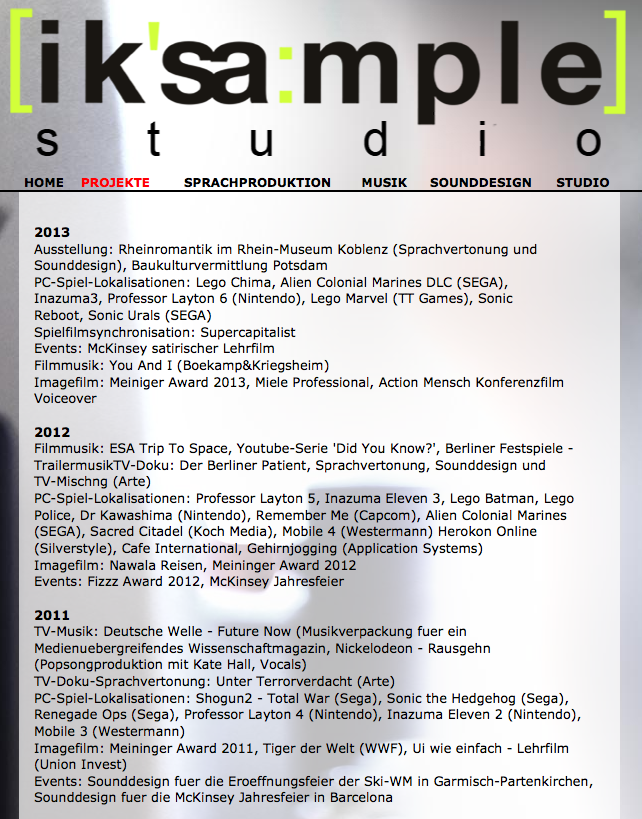 Under their 2013 work, the website for Iksample Studio clearly lists two Sonic projects for Sega.  The studio has dubbed the projects Sonic Reboot and Sonic Urals.  Previously, the studio has worked on several other Sega projects, including the localization of Aliens: Colonial Marines and Sonic Generations.  Don't let the label PC-Spiel-Lokalisationen, or PC game localization in English fool you; several video game series are listed under that label, including projects for Nintendo, which never publishes their games to PC.
However, as seen above, Spindash.de notes that their Generations localization was originally under the Sonic the Hedgehog title, and hypothesizes at least one of the titles mentioned is in fact Sonic Lost World.  That doesn't change the fact there are two listings seen.  Which entry could fall under Lost World, and which is that new, unknown Sonic–or is it possible both games are new and previously unrevealed.
When we know more, we will bring it to you here.  If you can help us get to the bottom of this, please send a news tip.
UPDATE: We wanted to bring to your attention something one of our Twitter followers hypothesized and it's reasonable enough to deflate some high hopes the above information may bring about–the above names could be codenames for the titles we already know about–both Lost World and the upcoming Winter Olympics title:
@tssznews Lost World is a reboot of the gameplay, and the Urals are in Russia, like Sochi.

— Alpha 3 (@Alpha3thegull) June 24, 2013