ASR Transformed gets new DLC, Free Weekend on PC
by Ryan Bloom
July 4, 2013
The ultimate in "Try Before You Buy"
Sonic & All-Stars Racing Transformed was an incredible kart racer – if you haven't read my review for it, well, it's right here. (We also have reviews for the Wii U and 3DS versions!) It was also host to a fantastic PC port – featuring sharper graphics than any of the console versions were capable of. If you haven't had a chance to play ASRT yet, well, good news: the PC version of the game is free from now until Sunday afternoon on Steam. Once you have Steam installed, just go to the game's page on Steam, and scroll down to the "Free Weekend" and click on it to begin the installation process. Should you feel like purchasing the game, it is also on sale for the low-low price of $7.50.
All of this sudden focus on ASRT has a purpose, of course: the PC version has also received yet another exclusive driver in the form of General Winter from the recently-released Company of Heroes 2.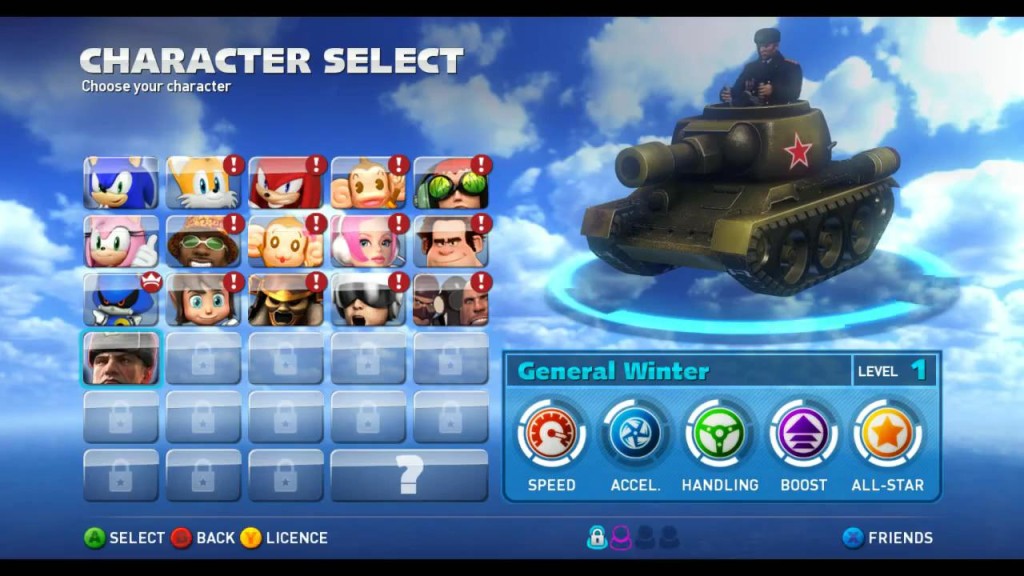 Like the rest of the PC-exclusive characters, General Winter is included with the game for free. There is, however, no word on any other DLC for the game – no word about what became of the DLC poll results, no further information regarding Steve Lycett's sly hints on Twitter that Sonic and Mario would have a kart racing showdown, nothing.
That being said, I cannot help but wonder if this is an effort to drum up further interest in ASRT – hopefully meaning future DLC is still on its way. Keep those fingers crossed, and we'll keep you posted.