Sonic Lost World second DLC unveiled
by Andrea Gil
September 27, 2013
Europeans also get it
Remember when Sega Mexico talked about a brand new, smaller DLC coming for Sonic Lost World only to those who preordered the game on certain retailers? Well, now the mystery is unveiled, and we know what that mini-DLC is.
UK retailer ShopTo has revealed today on their facebook page that those who preorder Sonic Lost World on their shops will receive, not only the Deadly Six edition of the game, but also two more DLC codes that unlock a golden RC Omochao gadget, who can be used to help  Sonic as if it were one of Tails RC gizmos,  and a 5-pack of Black Bomb Wisp Color power, that can be used to bomb away enemies off the shore. Both are included in the nightmare pack of the Deadly Six edition of the game.
For now, you can get that DLC if you preorder the game at certain retailers: ShopTo in UK, and Gameplanet in Mexico. No other retailer has been revealed for now, but it's sure thing it will also reach USA, Australia, and the rest of Europe too.
If you live in UK, you can pre-order Sonic Lost World: Deadly Six Edition at ShopTo for £32.86 by clicking here.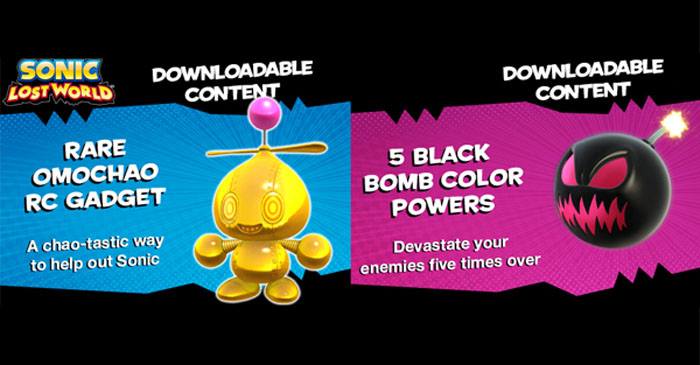 EDIT: Two new DLC have been found exclusively for USA. First, if you preorder the game at Gamestop you will get the rare Sonic Omochao, a sonic customized Omochao RC gadget. If you prefer to preorder it at Amazon, you will receive a code to redeem for 25 extra lives.