Nintendo's future plans include more Gamepad, Smartphones
by Ryan Bloom
January 30, 2014
A recognition of brand identity confusion
2013 was not the best year for Nintendo. Though the company is still sitting on a huge reserve of cash from the monstrous success of the Wii, to call the launch of the Wii U "tepid" would be a bit of an understatement. CEO Satoru Iwata took the stage last night in Tokyo, Japan to assuage fears that Nintendo would be developing games for other platforms and to bring in to focus the company's road map for 2014 and beyond.
According to Iwata, the Wii U's biggest achilles heel, and potentially its greatest strength, is the Gamepad tablet hardware. Not enough people are aware of what the Gamepad can do, and part of that has to do with Nintendo's own utilization of the feature. Most consumers, Iwata says, think that the Wii U gamepad is merely an accessory for last generation's Wii. That's something they intend to change, with more games that better emphasize what the Gamepad is, and the unique functions it provides. One such feature is NFC (near-field communication), the same kind of technology popularized by Skylanders and Disney Infinity. Nintendo intends on revealing a NFC-enabled game using the Wii U's Gamepad at E3 this year. Off-TV play was also mentioned as something they intend to focus more on, with a "quick start" function for the Wii U Gamepad to speed up how quickly one could get in to a game without needing a television.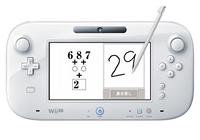 Part of making better use of the Gamepad is also the introduction of providing Nintendo DS games via the Wii U Virtual Console. The DS was Nintendo's original foray in to second-screen gaming, providing a similar analog to the Wii U, between the TV (top screen) and Gamepad (bottom touch screen). An image of Brain Training was shown running through the Gamepad, though how DS games will look and function raises more questions than answers (particularly when dealing with games that require using both screens in tandem, like Sonic Rush). Presumably we'll know more at E3.
Iwata also wants to expand the Nintendo "platform" to mean more than just individual pieces of Nintendo hardware. While this probably does not mean we can expect Super Mario Bros. to release on iOS, it does mean Nintendo-branded mobile apps are coming, something they've been suggesting since the original announcement of the Wii U almost two years ago. The intent is to bring users in to the Nintendo ecosystem in order to better encourage them to buy Nintendo devices, something they've had a degree of success over with official Pokemon-themed iOS apps released in 2013.
Expanding the Nintendo "platform" doesn't stop at mobile apps, either, as the company is loosening up on its licensing guidelines. Previously, Nintendo had closely guarded characters like Mario, protecting him out of the fear that licensing partnerships might "damage the value" of his brand. Now, they intend to be a little more open-minded about proposed licensing opportunities, "provided we are not in direct competition and we can form win-win relationships." Iwata hopes that such a move will increase brand awareness and get Nintendo characters out there in to more than just video games (maybe Archie should re-pitch those Mario comics from a few years ago).
Pricing was another point of discussion during this meeting; Iwata is aware that prices in some markets need to be reduced, and Nintendo will be investigating ways to make this happen by 2015. At least part of that is the suggestion of a new system wherein users who buy Nintendo products get increasing discounts. The more you buy, less you pay for the next game. This seems to be in response to the notion that Nintendo games never seem to come down in price – a quick glance on Amazon reveals that there are Nintendo 3DS launch games that are still selling for full price, two years after release, something that is a relatively common occurrence. This proposed system would help alleviate some of those pricing woes.
The final major point was Nintendo's future focus on what it's calling "Quality of Life". Previously, Nintendo had offered Wii Fit in order to help its users get healthy, but Iwata wants to take things a step even further than that. So much further than that, in fact, that Iwata wants to leap-frog near-future "wearable technology" and get in to the business of unwearable technology. According to Iwata, that is Nintendo's next "blue ocean", a term used to describe their strategy with the original Wii hardware. The intent is to improve the overall quality of life for its users, not just through physical exercise, but through other preventive and improvement measures. What any of this means is currently a mystery, and with Nintendo, you can never be sure what they've got up their sleeve.
The end result is something that was as confusing as it was hopeful for the future. Nintendo clearly seems to understand some of what went wrong with the launch of the Wii U, and is taking steps to correct that; though the inclusion of Nintendo DS games on the Wii U Virtual Console is completely baffling. Though arguably not as baffling as "unwearable Quality of Life technology". Nintendo is hardly in a desperate position, given their still swollen bank account, but they do very clearly have their backs against the wall, and at the very least are making some interesting propositions for the future. Stay tuned, folks. Things could get weird.