90s Arcade Racer Aiming for Mid-Year Wii U Release
by Tristan Oliver
February 5, 2014
Problems Encountered Porting to Wii U
We have an update to share for The 90s Arcade Racer, the arcade stock car title from Sonic Fan Remix alum Antonis Pelekanos.  The title was tentatively set to be out on Wii U, PC, and other platforms at the end of 2013.  The year has come and gone. Now, the developer known as Pelikan13 and publisher Nicalis have offered an update and explanation, with a new release goal:
Without getting into minutia that we're probably not allowed to share in great detail, some things that worked on PC couldn't be ported exactly Wii U without having affecting how the game performs on the Nintendo console–and probably other consoles, too. However, we're very happy with the results. Fidelity, image quality and a smooth framerate are our priorities. Detractors note, Wii U is proving very capable of running the game at 60fps at 720p with 4xMSAA and FXAA resulting in a crystal clear image. It's simply beautiful.

On the programming side these past few weeks our lead programmer has been busy working on the AI and creating the type of competition we've discussed in the past–focusing on a fun arcade experience. Our goal is to be able to race against 30 cars in each race. If we hit that number we'll be quite happy

Many of you have emailed us asking for a release date, unfortunately it's hard to give you a solid date but mid 2014 is our goal for now.
Included in the update was a screenshot showing The 90s Arcade Racer running on a Wii U Gamepad.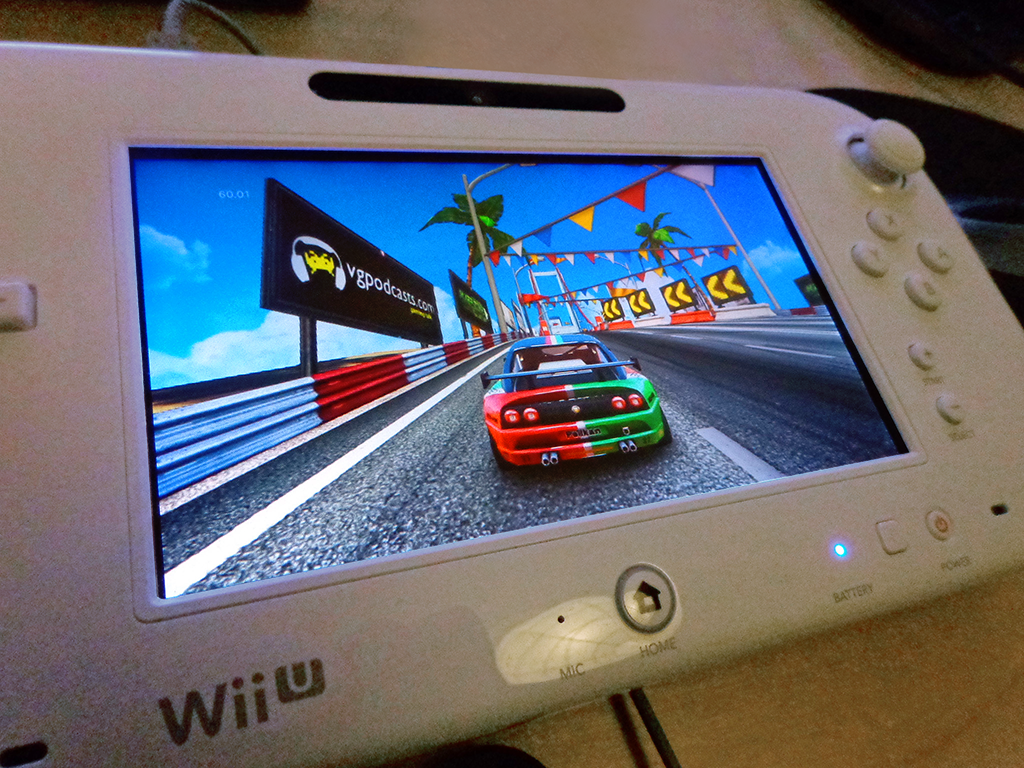 We'll continue to keep you updated on developments.  Thanks to Sonic Freak for tipping us.  If you have news to share, be sure to share it with us.  Click Send Tips at the top of every page, or tip us on Twitter.