SAGE 2014: Sonic Lost Adventure Developer Kevin "Highwire" Ethridge Interview
by Michael Westgarth
February 23, 2014
In the next of TSSZ's SAGE 2014 Act 1 developer interviews, we move over to Maryland USA where Kevin Ethridge a.k.a. "Highwire" has been hard at work making a 3D environment, Sonic Adventure-style game titled Sonic Lost Adventure: Havok Harbor.
Have a look at what Kevin had to say, as well as some Sonic Lost Adventure screenshots, below:
—
TSSZ: For readers who aren't familiar with you, who is Kevin Ethridge a.k.a. Highwire?
Ethridge: Oh I'm not anybody amazing. I'm just a college student in Maryland (USA) who is studying how to make games.
TSSZ: Am I right in thinking it [Sonic Lost Adventure: Havok Harbor] was originally a college project?
Ethridge: You are indeed correct! Sonic Lost Adventure started out as a final project for my 3D Game Graphics class back in November of 2013. Once it was finished, I decided to make it into a full fledged playable level.
TSSZ: What was the original goal of Havok Harbor? Was it just to pass your class?
Ethridge: Yes, I didn't have a lot of time to figure out what I wanted to do for the assignment once it was given to me, so I went with an idea I've had since high school which was a sonic game I came up with back then.
I had come up with seven other levels for the game, but I went with Havok Harbor because I had drawn it the most compared to my other level ideas, and the assets required for it were rather simple compared to my other ideas.
TSSZ: And now you plan to have a fully functioning, playable demo available for SAGE?
Ethridge: Yup. Its nearly done, and I plan on having a more polished version released for SAGE Act 2 as well later this year.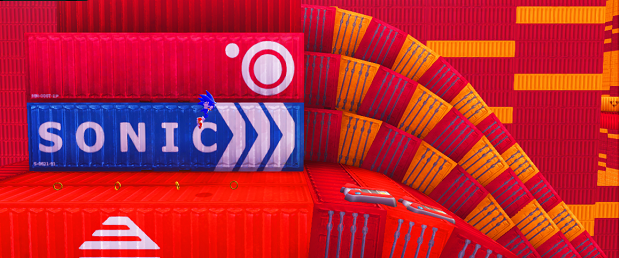 TSSZ: It's made using Unreal 3, is that right? Is that your engine of choice?
Ethridge: SLA [Sonic Lost Adventure] does use the Unreal 3 Engine along with the Sonic GDK engine. As for it being my engine of choice, I'm not so sure about [that]. The main reason it's in Unreal 3 is because that's the software we were using for the class. I have a lot of expeirence with Unreal, but I'm not the biggest fan of it.
TSSZ: It's a tricky engine to use?
Ethridge: Its only tricky depending on what you want to do. Implementing visuals like textures, 3D models, and things like that are very easy and you can build pretty environments rather quickly.
I don't like how limited the engine is in terms of the kind of games you can make for it due to how the engine handles coding. Unreal uses a visual based programming language that is rather confusing and hard to learn. Making anything other than a 1st person shooter requires almost a complete over haul of the engine which is just silly to me. I hear this is going to change in Unreal 4 though, so maybe I'll change my mind about it then.
TSSZ: And if you were to pick your personal favourite feature of Sonic Lost Adventure, what would it be?
Ethridge: Hmm… That's a tough one. I'm really fond of the color pallet I used for it and I'm mostly proud of the 1st third of the level.
TSSZ: And why the first third?
Ethridge: I had more time to really polish the level design and focus on making the flow and pacing work well for a 3D sonic game. I had to cut a few corners for the later parts of the level due to time constraints so they're not as smooth as I'd personally like.
TSSZ: Have you seen the new [Sonic Boom] redesigns and trailers? And what are your thoughts on the redesign and the whole Sonic Boom TV/videogame project in general?
Ethridge: I'm totally fine with it and can't wait to see what comes out of it. Its an alternate reality so I'm fine with any changes they make. Plus its being made by the guys who made Crash Bandicoot, Jak and Daxter, Uncharted, and The Last of Us, so I'm confident in the product.
TSSZ: Sonic Lost World has become a decisive title among Sonic fans. Have you played it, and what are your thoughts on its gameplay and tone?
Ethridge: I was disappointed by Sonic Lost World. I love the new gameplay mechanics and Sonic controls like a dream, except for when his jump looses all momentum. The thing that killed it for me was the pacing and level design, both of which were terrible.
TSSZ: Getting Sonic Lost Adventure done is obviously hard work on your part, but once it's complete, do you fancy getting stuck into a new Sonic project?
Ethridge: I think I've had my fill. I love working on original stuff and I have a portfolio to build, so no, I don't see my self working on anything Sonic related any time soon.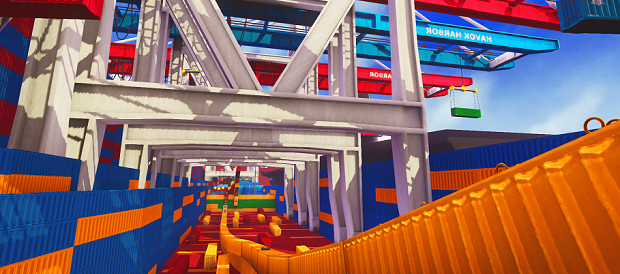 TSSZ: Sonic isn't your only project, as you're working on a completely original title: The Estate. Is this a college project, or a fully fledged indie game, or both?
Ethridge: Its both. I'm taking a practicum course in college right now which lets me work on my indie game and get credit for it, though thats not how it started out. I've been working on it since around September of last year on my own.
TSSZ: It's a personal project then?
Ethridge: Yeah, you could say that.
TSSZ: Is it intended for release to the public?
Ethridge: It is indeed. I intend to sell it on platforms like the OUYA and Steam around winter this year or early 2015.
TSSZ: That's really cool. But what kind of game is it? What genre? What tone?
Ethridge: Its a puzzle metroidvania, which is basically like if Super Metroid and Portal had a baby but its baby had laser guns. Its got a kind of solitary and curious tone to it I think with a bit of dark themes thrown in.
TSSZ: Are you going for retro graphics?
Ethridge: I'm going for 2D pixel art graphics that I can make as pretty as I can. If that counts as retro I suppose I am then ahahaha.
TSSZ: Neo-retro perhaps!
Ethridge: I suppose we could call it that ahaha.
TSSZ: Well, that sounds really awesome and I wish you the best of luck with it. Where can TSSZ readers find out more about your work, Sonic Lost Adventure and The Estate?
Ethridge: Well thank you so much for having me! I've got a Twitter, Youtube, lets play channel, and DeviantArt account that your readers can check out for more info on stuff if they like.
—
Kevin Ethridge – Highwire
Twitter: @Highwire64
Youtube: Highwire 4
Deviant Art: SonicBommer
Let's play channel: WeAreLostInTheWoods (Kevin talks about game design a lot on here)
—
Thanks to Kevin for taking the time out to talk with us. Be sure to check out Sonic Lost Adventure: Havok Harbor, the screenshot gallery below and check back with TSSZ for more SAGE 2014 Act 1 developer interviews!