SAGE 2014: Sonic Game Land Developer Valerii "The Valeev" Interview
by Michael Westgarth
February 24, 2014
SAGE 2014 Act 1 is finally here and with it comes the latest and greatest Sonic fan game projects. One project in particular, Sonic Game Land, hopes to build upon and modernise the multiplayer aspect of classic 2D Sonic the Hedgehog games.
We got in touch with Sonic Game Land's creator, Valerii Valeev a.k.a. "TheValeev", and picked his brain regarding the game, SAGE 2014 and recent, official Sonic news. Check out the interview below:
—
TSSZ: People know you as "TheValeev" on the internet, but who are you and what do you do in your normal, day-to-day life?
Valerii: I'm an ordinary 17 years old guy from Russia, a diligent student and just a good friend. But I'm alone in there where people are interested in Sonic's franchise. I'm not adult yet, so I do my house work every day, help my family and I also watch or listen to random Sonic content.
TSSZ: So, you're currently working on Sonic Game Land. What is your goal with that game? What do you hope to achieve?
Valerii: My main goals [are] very common:
1) I just want to create a game you'll enjoy.
2) More multiplayer Sonic games are worth becoming a reality.
3) You know Sonic Fusion game (which, unfortunately, was cancelled), don't you? As soon as I learned about it, I've decided to make sort of an alternative. To honor the great game, you know?
I always liked multiplayer in Sonic games, [from] Sonic 2 to Sonic 4 Episode II. But [the] multiplayer from Sonic Colors has become my most favorite. When I knew that Soniс Colors [was] available only for Nintendo Wii, I decided to make alternative for other platforms.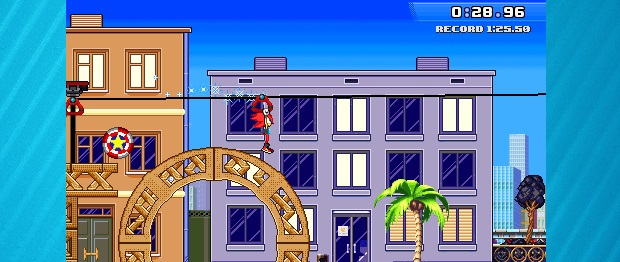 TSSZ: Does the SAGE '14 demo of Sonic Game Land mark a significant step in the game's development?
Valerii: Yeah, current demo is very different from SAGE 2012 version — but [it's not] the final version of the game, only demo. I work alone, so I'm the one who does everything you see in the game. Some understanding from the game fans (if there are any) is what I'm asking for because I'm trying to create a quality game.
By the way, it would be nice if somebody [could] volunteer to help me.
TSSZ: You're looking for Gamer Maker developers, isn't that right?
Valerii: Yeah, for Game Maker
TSSZ: What is new for players in this Sonic Game Land demo?
Valerii: Better gameplay, graphics and some new music. In addition, I revamped storyline, [the] start of which you can see too.
TSSZ: What are your favourite new features in your Sonic Game Land SAGE '14 demo?
Valerii: Custom created place system on races and improved track looping algorithm.
TSSZ: What projects by other people are you excited about seeing in this year's SAGE?
Valerii: Sonic the Hedgehog 3D, Sonic Worlds Engine, Sonic Time Twisted and Salom Adventure (my favorite "modern Sonic" fan game) for sure.
TSSZ: Sonic Lost World has become a device title among Sonic fans. Have you played it, and what are your thoughts on its gameplay and tone?
Valerii: I haven't played it because I don't have a Nintendo Wii U — I watched the gameplay on YouTube.
[Sonic Lost World] looks pretty good [to] me but has some deficiencies — gameplay is very unfamiliar. I approve only three monsters from The Deadly Six, but I liked [the] graphics, music and many references from recent Sonic games. I think Sonic Lost World would be perfect as [a] fan game, because it is looks too simple for [an] official game.
TSSZ: From the perspective of an English speaker, the Sonic fandom seems to be at its largest in North America. From your perspective as a Russian, do you think that's true? Is there a strong Russian Sonic fanbase?
Valerii: Ok, this is very interesting and hard question for me. In Russia, we consider American Sonic fanbase as specific, because Sonic's universe was created [there] not only with original games, but also with comics and cartoons, which were unavailable for us. This made American Sonic's universe different from Japanese one.
We are not strong in amount of fans, but all of our fanbase are in close friendly relationships. Every year we organize meetings and events, I advise you to follow upcoming SuperSonicCon, where our fandom will possibly get to the new level, still enjoying the most popular SEGA's mascot.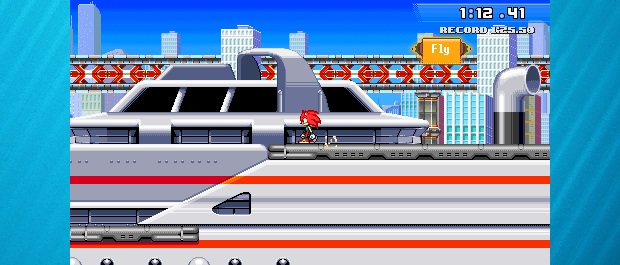 TSSZ: I've noticed that you are pretty active on SoundCloud and follow a lot of videogame soundtrack remixers. Who are your favourites? Have your made your own tunes in the past or do you plan to?
Valerii: Yeah, SoundCloud is very helpful service if you looking for good videogame soundtrack remixers. My favourites there is Jeremy Smith, Andy Tunstall, James Landino, Plasma3Music, Funk Fiction, Falk and S0LV0. About original soundtrack – we are planning to make some songs with Jeremy. But, again, if someone want to help us – welcome!
TSSZ: When Sonic Game Land is complete, are you onto the next Sonic project, or will you be taking a break from making fan games?
Valerii: I'm planning try to make separate online-multiplayer Sonic game and opensource Game Maker engine for those who can't work with Sonic Worlds.
TSSZ: What else are you up to that TSSZ readers might be interested in?
Valerii: I'm going to help with HoMax's game called Sonic Project Eclipse — [a] pretty cute game, check [it] out. That game will not participate on this SAGE, but he is looking forward for next Act. [N.B. Project Eclipse made it to SAGE 2014 Act 1]
Also, I want to say thanks to OverbounD for [a] very good engine from old Time Twisted builds. It was a pleasure to work with it.
TSSZ: Where can TSSZ readers find you?
Valerii: Well, you can find me on:
Twitter: @TheValeev
YouTube: MrTheVallev
Facebook: Valeev, Valerii
DeviantArt: TheValeev
SoundCloud: TheValeev
Steam: TheValeev
And on Sonic United Forums
—
Thanks to Valerii for taking the time to answer our questions. Be sure to check out Sonic Game Land and check back with TSSZ for more SAGE 2014 Act 1 developer interviews!