SAGE 2014: Sonic Worlds Delta Developer Techokami Interview Part 1
by Michael Westgarth
February 25, 2014
Sonic Worlds Delta is easily the most well used Sonic fan game creation tool out there. In fact, Sonic Worlds Delta is the engine used in a large proportion of SAGE 2014 Act 1 entries . Therefore it only seemed proper to invite the tool's maintainer Techokami for a chat as part of our SAGE 2014 developer interviews.
Check out the first part of the interview, in which Techokami talks about Sonic Worlds Delta, the importance of community feedback and the upcoming Sonic Worlds Delta 1.4.4/ 1.5.0 update, below:
—
TSSZ: For TSSZ readers who aren't familiar with you, who is Techokami, where on planet Earth are you based and what do you do?
Techokami: Well, I'm a person that exists on the internet. I live in Massachusetts [USA], and I've been a member of the fangame and ROM hacking communities since 2002. I've also been a moderator and site administrator for a few of the core communities in these scenes, such as Mario Fan Games Galaxy, Metroid: Fan Mission, and SMW Central.
I am a freelance computer technician that builds and repairs computers, and I do programming as a hobby.
TSSZ: Just to be clear for readers, can you explain what Sonic Worlds Delta is, how it works and what can be done with it?
Techokami: Sonic Worlds Delta is a game development kit for Clickteam's Multimedia Fusion 2 and Fusion 2.5 software creation tools, geared towards creating Sonic games similar to the classic Genesis/ Mega Drive titles.
It does not do everything for you, but it provides all the core features and plenty of example "gimmick" features, like the moving barrels from Carnival Night Zone in Sonic the Hedgehog 3. It also provides frameworks and examples for creating clean, easy-to-read code that can be ported between other copies of the engine. It's not something for beginners, but with some practice, you can make a fun and original Sonic fangame with Sonic Worlds Delta.
TSSZ: Since Sonic Worlds Delta 1.4.2 was released fairly recently, I assume it won't be shown off at SAGE 2014. Are you working on your own Sonic fan game for show?
Techokami: Sonic Worlds Delta is being shown off at SAGE, with a new update – version 1.4.3. I just put the finishing touches on it a few hours ago [conversation took place on Feb 17th, 2014], and it will be available at the start of SAGE.
Secondly, yes I am working on a Sonic fangame project of my own, Sonic Edge, but I do not have any material to show at this time. I've been too busy with Sonic Worlds Delta and an original game project to do much work on it. I do hope to finish it some day, since I've been working on it in many past incarnations since early 2002.
TSSZ: Oh right, Sonic Worlds Delta 1.4.3, I must have missed that announcement.
Techokami: Yeah, I wasn't very vocal about the update. It's got a lot of neat new gimmicks and features, as well as several bug fixes and refinements. It is an excellent version to start creating a fangame project with, considering that the next update won't be ready for a long, long time, due to some major internal changes that will be occurring.
TSSZ: What's your goal with maintaining Sonic Worlds Delta? Do you share the same goal as your predecessors, or have you tried to bring something unique to the project?
Techokami: Well, I've been trying to keep additions to things that are useful to any project. Most of the new gimmicks are either generic things like water slides and fans, or repurposable things like how the barrel from Carnival Night Zone can be retooled easily into the large rotating platforms from Sky Sanctuary Zone.
The big things I've been adding are core features like new players. I would go into detail about what the next version is going to contain, but I'd rather not deter people from using 1.4.3 when [the following] update is months and months away!
TSSZ: Will the upcoming Sonic Worlds Delta 1.4.3 update contain many new features aside from bugfixes and the like?
Techokami: No, it will mainly be limited to one large new feature. Again, I'd rather not give away what it will entail, as I don't want to deter users from 1.4.3!
TSSZ: Well, you're clearly excited about 1.4.3. But how do users usually react to updates? Is feedback mostly positive?
Techokami: It is mostly positive feedback. I've gotten a few trolls who complain about pointless things, such as the lack of Box2D physics – which is a Fusion 2.5-specific thing that would impact performance negatively – but aside from that, it's all been good.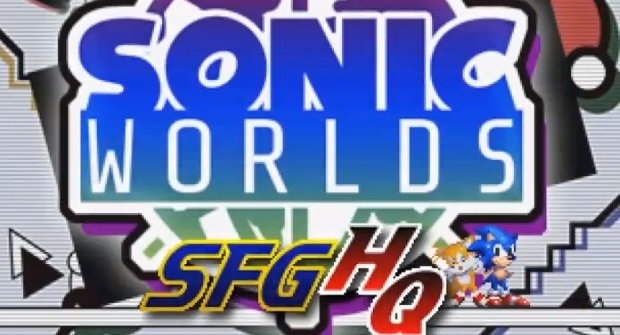 TSSZ: So is community feedback and support important to you when it comes to working on Sonic Worlds Delta updates?
Techokami: Yes it is. A lot of content has come from the community, and their feedback is what helps me locate bugs and places to improve the engine overall.
Sonic Retro user Caverns 4 used his knowledge of how Sonic the Hedgehog 2 works to help improve item monitors for 1.4.3, for example.
TSSZ: Is that what happened with the recent 1.4.0 update and the quick update that came after it?
Techokami: Yes it is. The "titular" feature of 1.4.0, the barrels, originated from me messing with the heads of people in the SFGHQ chatroom, trying to see who could guess that Amy was being added. Everyone started chanting for barrels, and well… I made barrels happen!
The update that came directly after it was a critical bugfix for something I didn't entirely catch in time, as it was a contribution from someone else that had slightly flawed programming. For the record, it was using an undeclared player action value that resulted in a collision between barrels and poles.
TSSZ: I know you want to build hype for Sonic Worlds Delta 1.4.3, but can you give any hints about what we can expect from Sonic Worlds Delta 1.5.0? Maybe a cryptic clue of sorts?
Techokami: Actually, it will most likely be 1.4.4, as 1.5.0 will be the update that breaks compatibility with Multimedia Fusion 2 – requiring people to upgrade to Clickteam Fusion 2.5 – which I want to avoid as long as possible to prevent another outbreak of piracy that, until recently, held a death grip on the entire Sonic fangaming scene.
Clickteam's software isn't that cheap, and many people have turned to piracy instead of paying to use it legitimately. It wasn't until Clickteam teamed up with Humble Bundle to do a "last hurrah" of Multimedia Fusion 2 – in tandem with the release of the somewhat cheaper Fusion 2.5, where you could purchase Fusion 2 for only $1 – that people in the Sonic fangame scene traded in their illicit copies for genuine software.
But, I can say that it will feature Sonic & Tails.
—
Check back later for the second part of our chat with Techokami in which we talk about obscure Sonic characters, SAGE 2014 and the ever topical Sonic Boom!