SAGE 2014 Overview: Sonic 1 Sigma
by Tristan Oliver
February 26, 2014
The Original, Once Again Remastered
Classic Sonic fans, have, admittedly, been a bit spoiled of late.  Official re-releases of Sonic the Hedgehog and Sonic the Hedgehog 2 to mobile from Taxman and Stealth have been met with rave community reviews.  But there's another fan project that aims to take it a step further.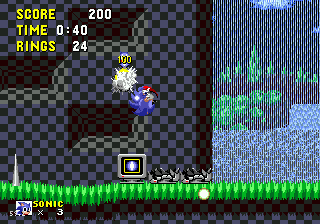 Sonic 1 Sigma, available for download here, is the work of PowerPangolin.  The product extends existing zones to the 1991 classic, adds two new levels, and condenses the three act format to two, among several other changes.  Above, you see one of those new levels, Dusk Island, a refit of the Green Hill Zone format.
There are much more overviews, interviews, and reviews to come from the 2014 Sonic Amateur Games Expo.