Archie Teases "After the Credits" Month for Sonic, SU, Mega Man
by Tristan Oliver
February 27, 2014
Alternate Endings Part of Campaign
Today, Archie reached a bit deeper into the more immediate future of Archie's Action line, announcing the entire line, including Sonic, Sonic Universe, and Mega Man showcase special After the Credits storylines.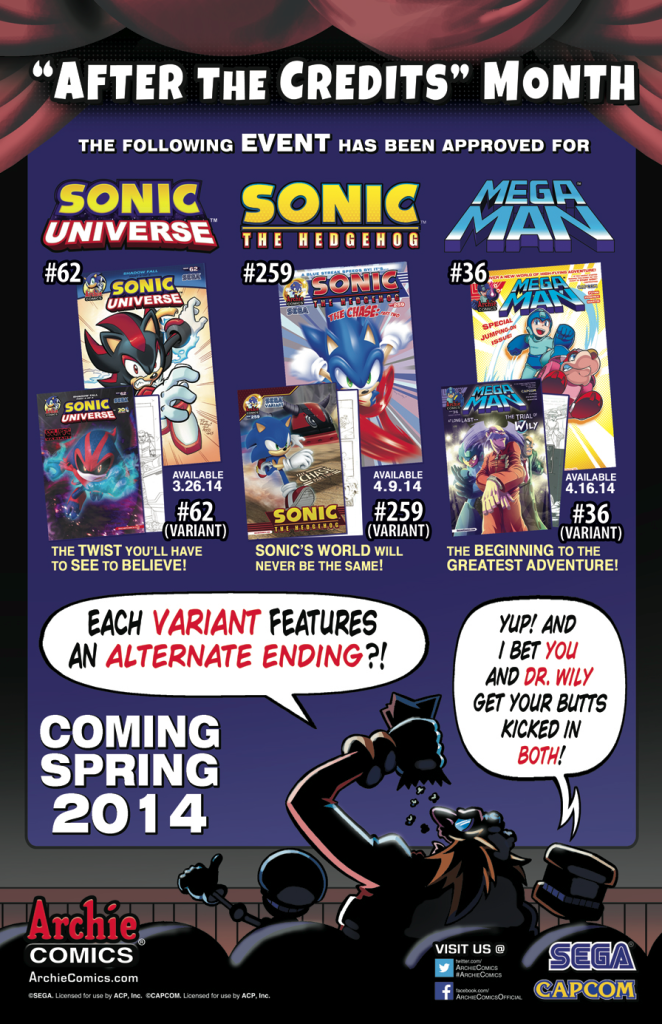 The campaign will begin with Sonic Universe #62, which will be released in late March.  The hook for After the Credits is that each variant edition will also come with a variant ending, according to Comics Alliance.
Says Archie's Paul Kaminski in the article:
"It's become a staple for superhero films over the last decade – waiting until the credits finish rolling for that one, last awesome easter egg that can change your entire perception of the story – or tease what's next. Archie's 'After the Credits Month' takes what you love about those movies and brings them back to comics. The initiative spans the entire Archie Action Line in May, including SONIC THE HEDGEHOG, SONIC UNIVERSE and MEGA MAN, with fans getting scenes at the very end of each issue – after the credits, natch – that tease all of the spoilerific details of what's coming up. The best part? Both the regular and variant editions of each comic will feature DIFFERENT 'After the Credits' scenes! So bust out the popcorn, visit your local comic shop and prepare for your jaws to drop!"
The main Sonic issue 259 and Mega Man #36 will also receive similar treatment, both in print and digitally.