SAGE 2014: LakeFeperd Interview
by Michael Westgarth
February 27, 2014
It seems like it just wouldn't be SAGE without LakeFeperd. This year's no different, with the revered Sonic fan game maker releasing Sonic Chrono Adventure 1.1 as part of SAGE 2014 Act 1.
We picked LakeFepered's brain regarding Sonic Chrono Adventure, his previous Sonic fan games, and his mysterious new, original title. Find out what LakeFeperd had to say below as part of our SAGE 2014 developer interviews:
—
TSSZ: Aside from the new double jump and extra paths, what new features can players expect in Sonic Chrono Adventure 1.1?
LakeFeperd: With the help of let's players all over Youtube I realised that, in some parts of the game, it wasn't very obvious what you should go next – so I did a little bit more of work around that area – but that's mostly it.
TSSZ: Three out of four of your Sonic games have received updates. Aside from bug fixes, how do you decide what new features or tweaks to include in an update?
LakeFeperd: I usually like to get my games right on the release day, since I think getting into the habit of [releasing] new versions is just a bad thing overall. Although some people have argued that not fixing your game's glitches is even worse, keeping this mentality turned out to be quite helpful in real life, since if you have a project for college, and that project isn't right the day it's released, you're pretty much screwed.
BTS'12 [Sonic The Hedgehog: Before The Sequel SAGE2012 Version] was a special case though. Falk sent me a message over retro [Sonic Retro] with the idea of composing an original soundtrack for the game – so a new version was made.
With ATS [Sonic The Hedgehog: After The Sequel] on the other hand – with the help of streams and early let's plays – I was able to notice a few game breaking glitches and fixed those before the game got noticed by people that weren't following it.
And now with Chrono Adventure, well, because of my lack of updates the game lost quite a lot of steam, and when I actually released the game, nobody was looking for it and therefore nobody noticed it. But since last year, I promised Chrono Adventure was going to be released during SAGE, and now that SAGE is happening again I thought I should show Chrono Adventure, but I needed an excuse to do so – [version] 1.1 was the idea.
TSSZ: How important of a role has Sonic Worlds played in the development of your four Sonic games?
LakeFeperd: Quite a lot.
Without Sonic Worlds, the original BTS wasn't going to be made at all due to my [lack of knowledge] about programming. It really helped me with game making and it is still helping me out at the present.
TSSZ: You stated late last year that Sonic Chrono Adventure is your final Sonic game, making Chrono Adventure 1.1 your last entry in SAGE. What are you feelings towards SAGE now that you're moving on?
LakeFeperd: It was a good time, but Chrono Adventure is not likely [to be] my last entry in SAGE. I'm sure I'll have something to show in the future, and as long as I'm using sonic worlds I think I will still keep an eye on SAGE.
TSSZ: How do you think SAGE has managed to persist for as long as it has?
LakeFeperd: I really don't know – I'm surprised that the sonic franchise itself has lasted as long as it has. But maybe it's the franchise's downfall and the community's frustration that moves people to look for fan made Sonic games.
As long as there are Sonic fan games and SFGHQ, SAGE should still be alive.
TSSZ: Which SAGE in particular do you think brought the most success to you and your Sonic games?
LakeFeperd: I'm not really sure about that, but if I had to choose it would probably be SAGE 2012.
TSSZ: Any SAGE memories you'd like to share?
LakeFeperd: I don't really remember a lot but I have to say, the funniest one was getting a front row seat with the ATS sound team to watch the "SAGE 2012 power struggle" [link to TSSZ report]. But, that's probably as much as I'm going to go on about it.
TSSZ: As mentioned above, Sonic Chrono Adventure is your last Sonic game. Was that a difficult decision to make?
LakeFeperd: No, I was planning on moving on from making fan games since ATS – Chrono Adventure was just an idea I had to make a reality before that.
I feel like I really needed the experience all four games provided me in order for me to make my own – in the end, it was worth it.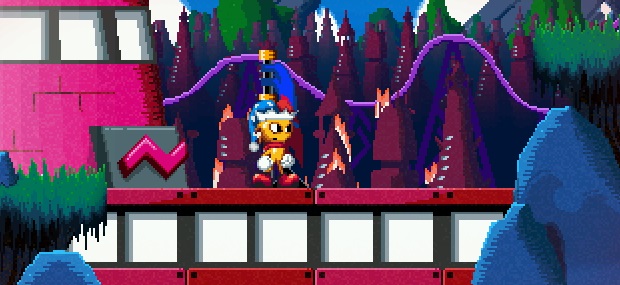 TSSZ: In a world where most fan game projects – regardless of their quality – never reach completion, how have you managed to consistently follow through with your Sonic projects?
LakeFeperd: Focus and making the act of working on my games a habit.
I always keep in mind that I have something to do and when I see that I have some free time, my mind goes to the next thing I should be doing; be it interesting, like a little bit of art and concepts, or not, like programming a gimmick or something similar.
TSSZ: Before the Sequel, After the Sequel, Aftermath and Chrono Adventure – that's four games, each warmly received by the fan gaming community. Did you ever imagine you'd find yourself in this position when starting out on Before The Sequel?
LakeFeperd: Sort of. I had an idea that I would be making Sonic games until I was able to make my own [original game], so I thought that one day I should have quite a few games.
TSSZ: If you're moving away from Sonic, does that mean you won't be building games in Sonic Worlds anymore?
LakeFeperd: So far, I'm still going to use Sonic Worlds until I'm able to make my own [engine].
TSSZ: What can you tell us about your next project? What's your inspiration behind it and what do you hope to achieve with it that you couldn't do with a Sonic fan game?
LakeFeperd: Well, I don't really want to share too much stuff about it yet, but the game itself is quite different from Sonic, even though you can still tell it's being made in Sonic Worlds.
TSSZ: What are your thoughts on the Sonic Boom redesign and the whole Sonic Boom TV/videogame project in general?
LakeFeperd: I think it's interesting; especially the fact that now we are getting a new Sonic cartoon.
TSSZ: Where on the internet can TSSZ readers find out more about you and your work?
LakeFeperd: So far, only on my Youtube channel and looking around Sonic Retro and SFGHQ. But that is something I'm working on at the moment and you guys should see some light once my next games gets announced.
—
Many thanks to LakeFeperd for taking the time to answer our questions. If you haven't already, head over to the official SAGExpo 2014 Act 1 website, download Sonic Chrono Adventure 1.1 and let usk now what you think by leaving a comment below!