"Project X Zone 2: Brave New World" Possibly Leaked
by Ryan Bloom
April 10, 2015
The Sega/Capcom/Namco crossover could be getting a sequel.
Remember Project X Zone? It was basically a Super Robot Wars game, but instead of being a huge crossover between hundreds of different mecha anime packed in to a strategy RPG, it was a huge crossover between Sega, Capcom and Namco packed in to a strategy RPG. It served as a pseudo-sequel to Namco X Capcom, which was a huge crossover between… well, I'm sure you can guess the rest.
If this NeoGAF post is to be believed, "Project X Zone 2: Brave New World" could be seeing an announcement in the near future. According to the post, Bandai Namco was showing upcoming games at the "Level Up!" event in Milan, and among them were Saint Seya: Soldier's Soul for the Playstation 4, Playstation 3 and PC, as well as Project X Zone 2: Brave New World for the Nintendo 3DS. Italian gaming website "e-duesse" had an article about these games appearing at the event, but it has now been edited to remove mention of their existence.
Thankfully, it would appear someone got a screencap of the website before the article was modified: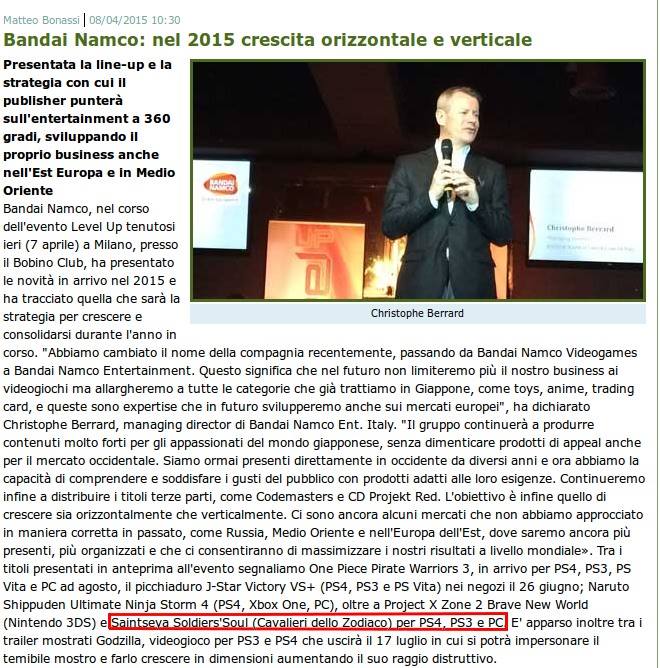 The aforementioned Saint Seiya game was indeed announced today via Famitsu, but as of yet, there is no word on whether or not Project X Zone 2 actually exists — though Famitsu also seems to be housing a countdown timer for another Bandai Namco game. As of this writing, the clock has just under three days before it hits its deadline.
Despite all of this, we are treating this as a RUMOR just to err on the side of caution, though signs are definitely pointing to this one likely being true.
The real question is: should Project X Zone 2 actually exist, will it come stateside? Will Sega still be featured among the line-up of crossover characters? And, more importantly: who, if anybody, is going to be added to the roster? Would Nintendo be willing to let their characters be featured in such a game? What about Konami? They not only have a stable of all of their own characters, but they bought out HudsonSoft a few years ago, giving them access to properties like Adventure Island and Bomberman. Or will the game just stick to same characters they already have?
Who would you like to see in Project X Zone 2? Let us know in the comments below.