Phantasy Star Online 2 coming to Playstation 4
by Ryan Bloom
August 16, 2015
Will be playable at Tokyo Game Show
Even though there's still no sign that Sega of America ever actually intends to release Phantasy Star Online 2 in North America in spite of its eternal "Delayed, not canceled" status, Sega of Japan is repeatedly capitalizing on the game's success. Today, it announced that PSO2 will be coming to Sony's Playstation 4 platform, and it plans on demoing this version at the upcoming Tokyo Game Show in September (that's next month).
Phantasy Star Online 2 will officially launch on the Playstation 4 sometime next year, presumably with the extensive updates Sega's continually teasing for the game, like it's "Episode 4: Reborn" expansion pack, or its Guilty Gear Xrd costumes.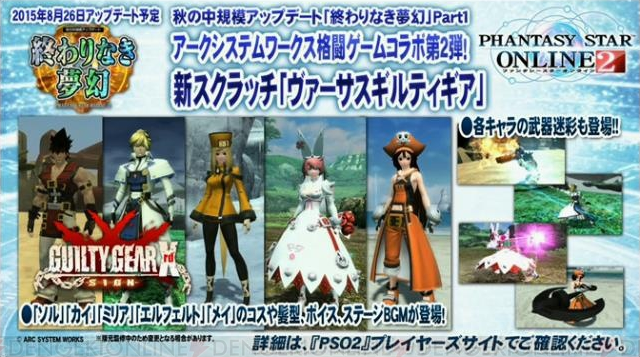 This is all well and good for Japanese players, or those of us daring enough to go through the harrowing process of registering to play on foreign servers. Maybe if we're lucky, Sony will help fit some of the bill and see the game finally released in proper English. Stranger things have happened.