Aaron Webber: "We're Currently Targeting Sonic Boom Event For 2016"
by SSF1991
August 28, 2015
In the midst of all the Sonic Boom news on the games, toys, and cartoon that has surfaced there's one aspect of Boom that hasn't had much info: the annual Sonic Boom gathering in the United States.
That has now changed. Thanks to a public Facebook reply from Aaron "RubyEclipse" Webber it seems the event won't be an annual event for much longer, like due to SEGA's restructuring: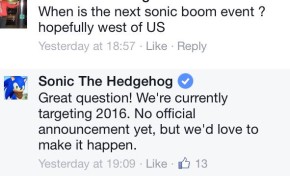 If you were saving up for a potential Boom gathering later this year then you may put those savings away for a year.